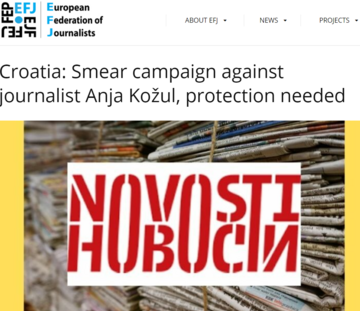 Kožul works for Novosti, a Croatian and Serbian-language weekly magazine published by the Serb National Council (SNV) in Croatia, which covers issues related to the Serb community in the country.
She has been exposed to numerous threats, insults and attacks coming from Serbia since 1 December. The hate campaign started after she published an article entitled "From Islamophobe to state official" about Arnaud Gouillon, a French and Serbian national known in Serbia for his advocacy for the Kosovo Serbs.
The article refers to Gouillon's recent appointment as head of the Directorate for Cooperation with the Diaspora and Serbs in the region.
Kožul received threatening messages and insults on social media from the founder of the Serbian paramilitary group "White Eagles", Dragoslav Bokan. He wrote: "Remember her face forever and don't let her play a Serbian woman after this!"; "She is our enemy, a freak and a traitor, the poorest one – who does everything she is told for a handful of kunas (…)".
The full statement is published here .
Tags:
Croatia
Hate speech
Safety of journalists