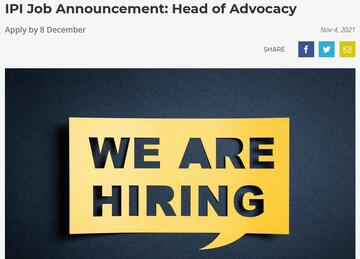 The Head of Advocacy should have at least five years of relevant professional experience. Journalistic experience and/or experience working for a related human rights organization on campaign and advocacy activities is highly valued and will be considered a clear advantage. The Head of Advocacy should hold a degree in journalism, politics, international relations, law or other related field. Additional qualifications are considered a plus.
The location for this position is Vienna, Austria, at IPI's headquarters. All nationalities are eligible to apply. A successful candidate who is not a citizen of the European Union/European Economic Area will be eligible for a work permit in Austria.
The start date for this position is 1 February 2022, or as soon as possible thereafter.
All details here .
Tags:
Advocacy