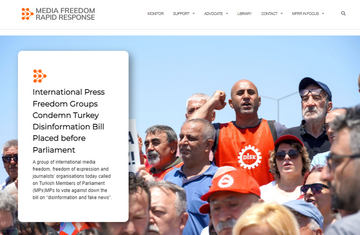 Screenshot of MFRR website
Twenty two international media freedom, freedom of expression and journalists' organisations call on Members of Parliament (MPs) to vote against the bill on "disinformation and fake news", which was submitted to parliament's General Assembly on October 4 by the governing alliance of the Justice and Development Party (AKP) and the Nationalist Movement Party (MHP).
The bill, which was first submitted to parliament in June before being postponed after the commission stages due to alleged differences between the two governing parties, has been resubmitted this week without any amendments despite fierce criticism from across civil society and the journalistic community.
The bill provides a framework for extensive censorship of online information and the criminalisation of journalism, which will enable the government to further subdue and control public debate in the leadup to Turkey's general elections in 2023.
The proposed bill provides for:
Up to three years imprisonment for those found guilty of deliberately publishing "disinformation and fake news" intended to instigate fear or panic, endanger the country's internal or external security, public order and general health of Turkey's society.
An increase of any sentence by 50 percent where the information has been published from anonymous accounts, by someone concealing their identity, or as part of an organisation's activities.
The expansion of the press law to include online news sites. This will enable the government to use the expanded role of the Press Advertising Agency, Basin Ilan Kurumu (BIK), to fund online propaganda while excluding critical outlets as has been applied in the print media.
The bill, with its vaguely formulated definition of disinformation and 'intent', overseen by Turkey's highly politicised judiciary, will put millions of internet users at risk of criminal sanction and could lead to blanket censorship and self-censorship in the run up to the 2023 elections.
A consortium of media freedom and human rights organisations will be visiting Turkey 12 to 14 October to discuss the consequences of the disinformation bill with politicians and media stakeholders, as well as the challenges facing independent journalists in reporting public affairs in accordance with the principles of free and fair elections.
Signed by:
International Press Institute (IPI)
ARTICLE 19
Articolo 21
Association of European Journalists
Cartoonists Rights Network International (CRNI)
Committee to Protect Journalists (CPJ)
Danish PEN
English PEN
European Centre for Press and Media Freedom (ECPMF)
European Federation of Journalists (EFJ)
Foreign Media Association (of Turkey) FMA
Freedom House
IFEX
International Federation of Journalists (IFJ)
Media and Law Studies Association (MLSA)
Media Research Association (MEDAR)
OBC Transeuropa (OBCT)
PEN America
PEN International
PEN Norway
P24 Platform for Independent Journalism
Reporters Without Borders (RSF)
South East Europe Media Organisation (SEEMO)
Swedish PEN
The Coalition For Women In Journalism (CFWIJ)
----
Uluslararası Basın Özgürlüğü Grupları Türkiye'de Meclise Sunulan Dezenformasyon Yasa Tasarısını Kınadı
Serbest bilgi akışını suç haline getirmek için tasarlanmış bir yasa
Yirmi uluslararası medya özgürlüğü, ifade özgürlüğü ve gazeteci örgütü, milletvekillerine Adalet ve Kalkınma Partisi (AKP) ve Milliyetçi Hareket Partisi (MHP) iktidar ittifakı tarafından 4 Ekim'de TBMM Genel Kurulu'na sunulan "dezenformasyon ve yalan haber" yasa tasarısına karşı oy kullanmaları çağrısında bulundu.
İlk olarak Haziran ayında meclise sunulan ancak iki iktidar partisi arasındaki görüş ayrılıkları nedeniyle komisyon aşamasından sonra ertelenen tasarı, sivil toplum ve gazetecilik camiasından gelen sert eleştirilere rağmen bu hafta hiçbir değişiklik yapılmadan yeniden meclis genel kuruluna sunuldu.
Tasarı, Türkiye'de 2023 yılında yapılacak genel seçimler öncesinde hükümetin kamusal tartışmayı daha da bastırmasına ve kontrol etmesine olanak sağlayacak şekilde, çevrimiçi bilginin kapsamlı bir şekilde sansürlenmesi ve habercilik faaliyetlerinin kriminalize edilmesi için bir çerçeve sunuyor.
Tasarı şunları öngörmektedir
Korku veya panik yaratmak, ülkenin iç veya dış güvenliğini, kamu düzenini ve toplumun genel sağlığını tehlikeye atmak amacıyla kasıtlı olarak "dezenformasyon ve yalan haber" yayınlamaktan suçlu bulunan kişiler için üç yıla kadar hapis cezası.
Bilginin anonim hesaplardan, kimliğini gizleyen bir kişi tarafından ya da bir örgütün faaliyetlerinin bir parçası olarak yayınlanması durumunda cezanın yüzde 50 oranında artırılması.
Basın kanununun internet haber sitelerini de kapsayacak şekilde genişletilmesi. Bu sayede hükümet, Basın İlan Kurumu'nun (BİK) genişletilmiş rolünü kullanarak, yazılı basında olduğu gibi eleştirel yayın organlarını dışlarken, internet üzerinden propagandayı finanse edebilecek.
Muğlak bir ifade ile oluşturulmuş olan dezenformasyon ve 'kasıt' tanımlarıyla, Türkiye'nin son derece siyasallaşmış yargısı tarafından denetlenen tasarı, milyonlarca internet kullanıcısını da cezai yaptırım riskiyle karşı karşıya bırakacak ve 2023 seçimleri öncesinde kapsamlı bir sansüre ve otosansüre yol açabilecektir. .
Medya özgürlüğü ve insan hakları örgütlerinden oluşan bir konsorsiyum, dezenformasyon yasa tasarısının sonuçlarını siyasetçiler ve medya paydaşlarıyla tartışmak ve bağımsız gazetecilerin özgür ve adil seçim ilkelerine uygun olarak kamu meselelerini haberleştirmede karşılaştıkları zorlukları ele almak üzere 12-14 Ekim tarihleri arasında Türkiye'yi ziyaret edecek.
İmzalayanlar:
Amerika PEN
Article 19
Articolo 21
Avrupa Basın ve Medya Özgürlüğü Merkezi (ECPMF)
Avrupa Gazeteciler Derneği (AEJ)
Avrupa Gazeteciler Federasyonu (EFJ)
Bağımsız Gazetecilik Platformu P24
Danimarka PEN
Gazetecileri Koruma Komitesi (CPJ)
Gazetecilikte Kadınlar Koalisyonu (CFWIJ)
Güneydoğu Avrupa Medya Kurumu (SEEMO)
Medya Araştırmaları Derneği (MEDAR)
Medya ve Hukuk Çalışmaları Derneği (MLSA)
Norveç PEN
OBC Transeuropa (OBCT)
Sınır Tanımayan Gazeteciler (RSF)
Uluslararası Gazeteciler Federasyonu (IFJ)
Uluslararası PEN
Uluslararası İfade Hürriyeti (IFEX)
Özgürlük Evi (FH)
İngiltere PEN
İsveç PEN
Yabancı Medya Derneği (FMA)
Tags:
Turkey
Censorship
Freedom of expression
Fake news and disinformation
This content is part of the Media Freedom Rapid Response (MFRR), a Europe-wide mechanism which tracks, monitors and responds to violations of press and media freedom in EU Member States and Candidate Countries. The project is co-funded by the European Commission.