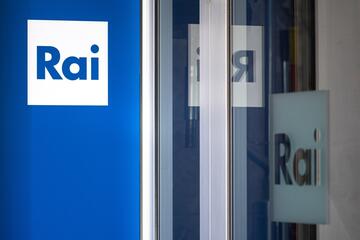 RAI Radio Televisione Italiana, logo of Italian state radio and television © Michele Ursi / Shutterstock
Following the recent resignation of the CEO and other major politically-influenced internal management changes at Radiotelevisione Italiana (RAI), the Italian public service broadcaster, the undersigned media freedom and journalist organisations today express growing alarm about threats to the editorial independence of the broadcaster. We call on the parliament to initiate a debate aimed at reforming the governance and funding system of RAI and safeguarding its independence.
On May 8, 2023, Carlo Fuortes announced his resignation from the post of CEO of RAI, citing political pressure. The high-profile resignation came amidst reports of behind-the-scenes negotiations between Fuortes and the cabinet involving his appointment as the director of a Napolitan theatre. Within this context, the government issued a decree law which forces the former theatre director into premature retirement.
On May 15, Roberto Sergio was appointed as the new CEO of RAI, who swiftly announced the need for "new storytelling" by the broadcaster in a letter to its employees. This was followed by the change, with a minority vote, of five out of the eight RAI channels' editors-in-chief. We believe these developments put RAI's editorial independence at serious risk. Sergio's reference sets the tone for broadcasting programming conformed with the ruling coalition's agenda. As concerns other management changes, we believe that also the appointment of Giampaolo Rossi as RAI's new Corporate General Manager is particularly worrying, given his controversial public stances, and risks exacerbating the polarisation of Italian public opinion.
Currently, the Italian broadcasting service's governance is heavily affected by RAI's Board appointment mechanism, which testifies to its lack of independence from the executive. Of a total seven Board members, one is elected by RAI employees, and two each by the government, the chamber of representatives and the senate. Following the codification of this appointment mechanism in 2004 (law 111/2004), amended in 2016 (law 220/2015), the composition of the board has reflected cyclical waves of politically-motivated interference in RAI's governance following elections. As stated in the Council of Europe's 2012 Recommendation: "without demonstrable independence of action and initiative, from government as well as from any other vested interest or institution, public service media organisations cannot sustain their credibility". Public broadcasting in the hands of any political forces is not at the service of the public interest, but a tool in their hands which threatens media integrity, an essential condition for the functioning of our democratic societies.
A further source of concern is the bill proposal recently presented by Lega Senator Mara Bizzotto. Part of the government's coalition, Lega's proposed amendments threaten to shrink even further the financial autonomy of the Italian broadcasting service. Currently, RAI is funded by citizens through a licence fee plus advertisement. According to Lega's reform, public broadcasting funding would be subjected to a yearly determination via the Budget Law. While such a legislative amendment might face opposition within the governing coalition, we are nonetheless concerned by Lega's proposal, which, if passed, would seriously reduce the broadcaster's financial independence.
Under European freedom of expression standards, RAI as a public service broadcaster should enjoy operational and administrative autonomy from any other person or entity, including the government and any of its agencies. This autonomy shall be respected at all times. The Italian Constitutional Court had made its position clear, arguing that public service broadcasting is to be intended as a "social service" which must "offer the public a range of services characterised by objectivity and completeness of information", a condition which can be fulfilled by granting adequate powers of oversight to the Parliament (Constitutional Court rulings 94/1987 and 69/2009).
Joining the dissent expressed by both Italian and European journalists' associations and unions, the undersigned organisations call on the Italian parliament to initiate a comprehensive reform of the legislation regulating Italian public broadcasters.We urge Italy to bring forward legislation directed to protect public service media from undue interference and guarantee its funding. Such a reform should allow RAI to operate in a sustainable governance framework, with reliable and adequate funding, securing both its editorial independence and public accountability, as recommended by the proposal for the European Media Freedom Act.
Signed
European Centre for Press and Media Freedom (ECPMF)
European Federation of Journalists (EFJ)
International Press Institute (IPI)
OBC Transeuropa (OBCT)
Tags:
Italy
Media freedom
Media funding
Political pressure
This content is part of the Media Freedom Rapid Response (MFRR), a Europe-wide mechanism which tracks, monitors and responds to violations of press and media freedom in EU Member States and Candidate Countries. The project is co-funded by the European Commission.