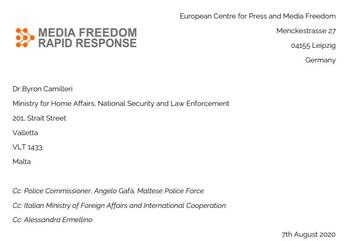 On 27 June 2020, Neville Gafà, a former person of trust in the Office of the Maltese Prime Minister, issued a threat against Italian journalist, Nello Scavo of the national newspaper, Avvenire. In response to a tweet posted by AlarmPhone, an independent support organisation for people crossing the Mediterranean, Gafà called on the organisation to "stop your dirty business". When Scavo responded questioning the former official's record, Gafà called for him to "stop your dirty business. If not, we will be stopping you."
On 7th August, MFRR partners and free expression organisations sent a letter to Maltese and Italian authorities calling for robust, thorough and transparent investigation into Neville Gafà.
On 19th August, Neville Gafà confirmed he was being investigated: "I am being investigated by Malta's police after a complaint was filed against me by a foreign journalist. A magisterial inquiry has been requested by the foreign ministry – the Maltese ministry, not a foreign one. No such complaints will stop me from fighting or broadcast what is happening in the Mediterranean. I haven't even started. There are no compromises on Malta."
However, we have not received a response from either Maltese or Italian authorities.
Here the full text of the letter sent on 7 August.
Tags:
Italy
Malta
Online news Online media
Harassment
Safety of journalists