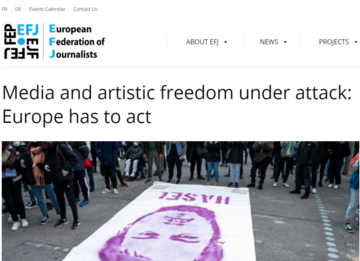 EFJ General Secretary told the audience that freedom of the press and artistic freedom are two essential dimensions of one and the same fundamental right: freedom of expression. "This freedom has been under pressure in Europe for years. And the context of the fight against the pandemic has not helped".
After talking about the events in Spain, in support of a rapper, Pablo Hasel who was taken to prison on Tuesday and faces nine months in prison for glorifying terrorism and slandering the crown over tweets and song lyrics, Ricardo Gutiérrez mentioned the fact that no one should face criminal prosecution only for expressing themselves on social media, for joking or for singing something that may be shocking. Expressions that do not clearly and directly incite violence cannot be criminalized.
His full speech can be found here .
Tags:
Safety of journalists
European Policy
Advocacy