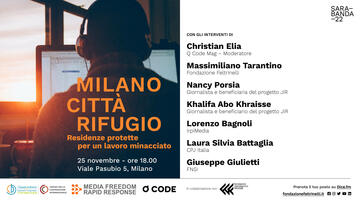 The event is preceded by two closed-door sessions involving institutions, academic and research organizations, civil society organizations and members of the journalistic community, for the dissemination of the Journalists-in-Residence and the relaunch of Milan as a refuge city for the journalists.
Speakers:
Christian Elia (Q Code Mag - Moderator)
Massimiliano Tarantino (Feltrinelli Foundation)
Nancy Porsia (journalist and beneficiary of the JiR project)
Khalifa Abo Khraisse (journalist and beneficiary of the JiR project)
Lorenzo Bagnoli (IrpiMedia)
Laura Silvia Battaglia (CPJ Italy)
Giuseppe Giulietti (FNSI)
It will be possible to follow the event in live streaming. The link will be launched on our social media channels in the coming days.
Milan
Feltrinelli Foundation - Viale Pasubio 5
25 November 2022 6pm
Organizers: OBC Transeuropa, QCode, Feltrinelli Foundation
Follow the event on YouTube in Italian and in English .
Tags:
Shelter programme
Practical support
Psychological support
Safety of journalists
Italy
This content is part of the Media Freedom Rapid Response (MFRR), a Europe-wide mechanism which tracks, monitors and responds to violations of press and media freedom in EU Member States and Candidate Countries. The project is co-funded by the European Commission.