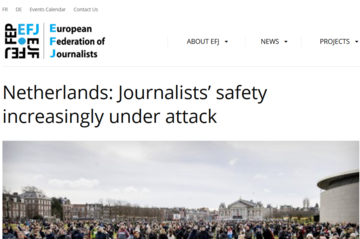 Related contents
Press Freedom Police Codex
Riots have taken place in several cities in the Netherlands following the the government's decision to impose a 9pm curfew to curb the circulation of the coronavirus, on Saturday 23 January. Several journalists were physically attacked in a context of growing hostility towards the press. The European and International Federations of Journalists (EFJ/IFJ) join their affiliates in the Netherlands, the NVJ, in condemning the attacks and expressing alarm over the escalation of violence against media professionals since last year.
The full statement can be found here .
Tags:
Netherlands
Safety of journalists
Advocacy
This content is part of the Media Freedom Rapid Response (MFRR), a Europe-wide mechanism which tracks, monitors and responds to violations of press and media freedom in EU Member States and Candidate Countries. The project is co-funded by the European Commission.