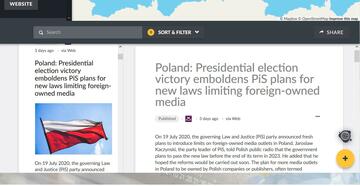 Related contents
Media capture: Toolkit for 21st century autocrats
Here the text of the alert verified and published by the Media Freedom Rapid Response:
On 19 July 2020, the governing Law and Justice (PiS) party announced fresh plans to introduce limits on foreign-owned media outlets in Poland.
Jaroslaw Kaczynski, the party leader of PiS, told Polish public radio that the government plans to pass the new law before the end of its term in 2023. He added that he hoped the reforms would be carried out soon.
The plan for more media outlets in Poland to be owned by Polish companies or publishers, often termed "repolanisation", has been on PiS's agenda for years but never materialised into legislation. It would effectively aim to lower the concentration of TV and radio stations, as well as print and online media in Poland, that are owned by non-Poles.
The latest plans come after the Presidential election victory earlier this month of incumbent Andrej Duda, the PiS candidate, which has emboldened the nationalists' agenda and reduced any risks of presidential vetoes against the new law. The topic of repolanisation rose to prominence again during Duda's election campaign, when he repeatedly accused foreign-owned media of meddling in Polish affairs and trying to influence the outcome of the election.
During the campaign, privately owned news outlets were more critical of Duda and newspapers ran damaging stories about the candidate in the final weeks before the vote. A number of major Polish outlets are owned by German and American companies and publishers. While PiS has been able to exert far greater control over the state-owned public TV and radio, effectively turning the broadcaster into a government mouthpiece, it has struggled to reduce the influence and impact of foreign-backed media.
A major target here has been leading broadcaster TVN, which is owned by Discovery Inc, an American company. PiS have said that many options for the new legislation were being considered. Polish daily Gazeta Wyborcza reported that among the ideas are plans to purchase regional newspapers, many of which are German owned.
Tags:
Poland
Media ownership
Media pluralism
Media Law
Media capture