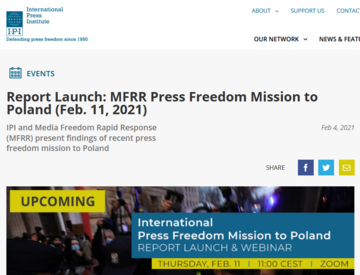 The homepage of IPI
On Thursday 11 February, at 11 AM CET.
The event will bring together press freedom experts and interlocutors from the mission, including editors and human rights experts, to discuss the most significant developments over the past year and examine the main challenges facing Poland's journalists.
The event will correspond with the launch of the report, which concludes that Poland now faces its greatest set of challenges since 2015 as the ruling Law and Justice (PiS) party continues to wage a multi-pronged attack on independent media in an effort to muzzle critical reporting and undermine independent journalism.
Speakers:
* Krzysztof Bobinski, journalist, Society of Journalists, Poland (host)
* Scott Griffen, Deputy Director, International Press Institute (IPI)
* Dominika Bychawska-Siniarska, lawyer, Board member, Helsinki Foundation for Human Rights
* Witold Głowacki, Editor at Polska Times
* Joanna Szymanska, Senior Programme Officer, ARTICLE 19
* Jamie Wiseman, Europe Advocacy Officer, International Press Institute (IPI)
* Laurens Hueting, Advocacy Officer, European Centre for Press and Media Freedom (ECPMF)
For more info, the dedicated page on IPI site.
You can register here .
Tags:
Poland
Advocacy
This content is part of the Media Freedom Rapid Response (MFRR), a Europe-wide mechanism which tracks, monitors and responds to violations of press and media freedom in EU Member States and Candidate Countries. The project is co-funded by the European Commission.