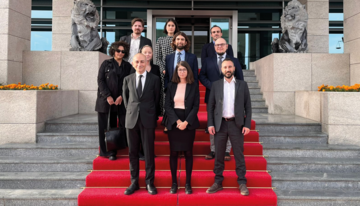 The delegation in Turkey - IPI website
The original article has been published by IPI .
Overview
Turkey's journalists are bracing themselves for a renewed attack on their safety and freedoms in the run up to the country's 2023 general elections following passage of a new disinformation law that threatens to close down public criticism and debate, an international media freedom mission visiting Turkey from October 12 to 14, 2022, has found.
Article 29 of the law provides for three years' imprisonment for those who publish "false information" with the "intention to instigate fear or panic, endanger the country's security, public order and general health of society". It was passed by parliament on Thursday, October 13.
The bill's vague and problematic language and its future implementation by Turkey's politicized judicial system will put journalists as well as millions of internet users at risk of criminal sanctions and could lead to much greater censorship and self-censorship in the country's already compromised news landscape.
This week, seven media freedom, journalism, and human rights organisations met with a range of key stakeholders in Turkey, including journalists, civil society groups, political parties, and the Turkish Constitutional Court to discuss Turkey's media freedom crisis. In addition to the chair of the Turkish Parliament's Investigative Committee on Human Rights, MP Hakan Çavuşuğlu of the ruling AKP party, the delegation also met with representatives of the Republican Peoples' Party (CHP), Peoples' Democratic Party (HDP), Good Party (İYİP), Future Party (Gelecek P.), Demokrat Party, Felicity Party (Saadet Party), Turkey's Workers Party (TİP), Labor Party (EMEP), and Societal Freedom Party (TÖP).
The mission's requests for meetings with presidential spokesperson İbrahim Kalın; with the AKP vice-chair responsible for human rights, Leyla Şahin Usta; and with RTÜK (national broadcast regulator) Chair Ebubekir Şahin were declined. Meeting requests sent to MHP representatives; BTK (communications authority) administration; the chair of the parliamentary Digital Platforms Committee, MP Hüseyin Yayman of AKP; and the head of Directorate of Communications, Fahrettin Altun, were left unanswered.
Led by the International Press Institute (IPI) and IPI's Turkey National Committee, the mission included representatives from Amnesty International Turkey, ARTICLE 19, Committee to Protect Journalists (CPJ), the European Centre for Press and Media Freedom (ECPMF), Osservatorio Balcani e Caucaso Transeuropa (OBCT), and Reporters without Borders (RSF). The mission was also supported by PEN International and the South East Europe Media Organisation (SEEMO).
Presidential and parliamentary elections are due to take place in Turkey June 2023. The free flow of independent news and information is an essential condition to any democratic election.
The mission called on politicians across the political spectrum to pledge to end the crisis facing journalism and commit to extensive reforms in their manifestos guaranteeing media freedoms after many years of deteriorating conditions.
At the same time, stakeholders met by the mission expressed grave concern over the possibility of a greater crackdown on journalists and a heightened threat of physical violence ahead of the vote. We call on the government to guarantee that journalists are able to do their work free of intimidation and harassment in particular during the election period.
Priorities for action
Following its meetings, the international delegation has identified the following priorities for action:
Disinformation law and digital censorship: The government must repeal the disinformation law and put an end to the framework of digital censorship that has been built by the administration. In particular, the new penal code article criminalizing disinformation offers the authorities yet another tool after years of abusing Turkey's anti-terror law to target critical journalism.
Stakeholders met by the mission also raised fears that the Center to Combat Disinformation, established this summer by the Directorate of Communications, will add another layer to the system of digital repression by increasing monitoring and harassment of journalists online.
Sustainable improvement for press freedom in Turkey cannot happen without ensuring the impartiality and independence of the judiciary. Turkey's captured prosecution services and courts, combined with poorly drafted laws that are not in compliance with international standards, have led to the prosecution, conviction, and jailing of hundreds of journalists over the past decade for their journalism. Despite the reduced number of journalists in jail, the Judicial Reform Package, a 2019 initiative presented by the government as an effort to safeguard rights, has not succeeded in stopping the prosecution and legal harassment of journalists.
While the Turkish Constitutional Court (TCC) has issued some important pilot rulings pointing to structural problems with laws impacting free expression, there are still major challenges around implementation of the TCC's rulings by both lower courts – a problem the TCC says it is working to address – and by lawmakers. Important freedom of expression related cases have faced years-long delays awaiting decisions from the TCC, underscoring serious concerns that justice delayed is tantamount to justice denied.
At the same time, meeting partners in Turkey have highlighted the problem that most TCC judges are nominated directly or indirectly by the president. Recent appointments to the court have given rise to serious concerns regarding political influence and underscore the need to free the nominations process from such influence.
Turkey's media regulatory bodies must be depoliticised and reformed. They have all abused their powers to target and penalise independent media.
The Press Advertising Agency (BIK) has consistently imposed arbitrary penalties on independent newspapers by withdrawing state advertising, thereby denying them an important source of revenue. This August, the Constitutional Court ruled that BIK's arbitrary sanctions constitute a rights violation stemming from a structural problem. Despite the ruling, BIK subsequently permanently revoked the right of one of these newspapers, Evrensel, to receive public ads.
The Television and Radio High Council (RTÜK), Turkey's broadcast regulator, has regularly targeted independent media. RTÜK issued 42 fines in the past nine months, according to reports by MP Utku Çakırözer. These have almost exclusively been levelled against independent broadcasters.
This summer, the Information and Communications Technologies Authority (BTK) was embroiled in a scandal known as "BTK Gate" following the revelation that it had been harvesting data of millions of internet users without a court order. Since December 2020, internet service providers have been required to send BTK hourly reports on websites visited, data location, apps used, and the names of the users. Such mass surveillance has clear implications for the rights of journalists and sources.
The safety of journalists is under increasing pressure as online threats and the verbal targeting of journalists by politicians spill out into violence on the streets. The Mapping Media Freedom platform has recorded 26 cases of assaults against journalists in Turkey in the past year alone. This rise in violence does not take place in a vacuum but is a result of the demonization of critical journalism as illegitimate and a threat to national security. Moreover, the impunity that has emerged in some of these cases risks fuelling further violence.
During the mission, the delegation called on all political parties to condemn any attacks on journalists and guarantee the rights of journalists to freely and safely cover the 2023 election campaign.
Over the past year, the prosecution and detentions of critical, independent media have continued. This year's mission has visited Diyarbakir to show solidarity with 15 journalists and a media worker who have been held there in pretrial detention since June despite a lack of official charges. The mission renews its call for the release of all jailed journalists in Turkey and its support for their colleagues and families.
Finally, the process of press accreditation must be reformed and depoliticized so as to enable all journalists to do their work. Accreditation must be taken out of the hands of the Directorate of Communications, which has abused its position to remove the press cards of hundreds of critical journalists, and be replaced by a system run by journalists and media organizations themselves.
Later this year, the delegation will publish a full report on the mission in which it will provide more detail about the views expressed by stakeholders and officials met during the visit.
Tags:
Turkey
Safety of journalists
Media freedom
Advocacy
This content is part of the Media Freedom Rapid Response (MFRR), a Europe-wide mechanism which tracks, monitors and responds to violations of press and media freedom in EU Member States and Candidate Countries. The project is co-funded by the European Commission.