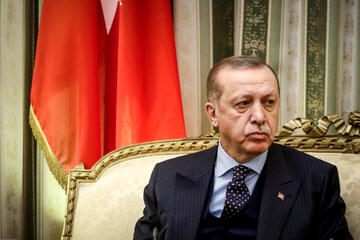 The President of Turkey Recep Tayyip Erdoğan. Credits: Shutterstock / Ververidis Vasilis
Media freedom, freedom of expression, and human rights organisations call on Turkish authorities to stop the systematic harassment and intimidation of Kurdish journalists, media workers, media outlets, the lawyers that defend them, and Kurdish political party officials, give them access to legal counsel, disclose full details of charges brought and to ensure that they are released from detention. We reiterate the need for a free and pluralistic media atmosphere in the run up to the elections that will be held on 14 May 2023.
On 25 April, coordinated dawn raids in Turkey targeted homes and offices of 128 people including journalists, lawyers, rights defenders, political activists and artists in 20 provinces, based on unclear charges. The state-run Anadolu Agency reported that the Diyarbakır-based operation is related to anti-terror investigations led by Diyarbakır Chief Public Prosecutor's Office. It was also reported that arrest warrants were issued against 216 people in total.
Among those that have been detained so far are 10 journalists and a lawyer who represents arrested journalists. Technical equipment, computers, books and documents belonging to journalists were also confiscated by the police during the raids.
The detained journalists so far include Mesopotamia News Agency (MA) editor Abdurrahman Gök and reporters Ahmet Kanbal and Mehmet Şah Oruç; editor-in-chief of Yeni Yaşam daily newspaper Osman Akın; the publisher of the only Kurdish print newspaper in Turkey, ​​Xwebûn Weekly, Kadri Esen; JinNews reporter Beritan Canözer; and journalists Mehmet Yalçın, Mikail Barut, Salih Keleş and Remzi Akkaya.
Lawyer Resul Temur, who represented imprisoned journalists in Diyarbakır and Ankara after similar raids in June and October 2022 respectively, was also detained in the raids.
The Diyarbakır Bar Association announced that the charges against the detained people are still unknown due to a confidentiality order covering the investigation and a 24-hour restriction on access to lawyers for those detained.
The raids are taking place in the run up to the parliamentary and presidential elections in Turkey which will be held on 14 May 2023, and represent another step in the systematic harassment and intimidation of Kurdish media and political opposition in the country.
Previously in June 2022, a similar raid resulted in 20 journalists in Diyarbakır being initially detained of whom 16 were placed in pre-trial detention on terrorism charges pending a trial that begins on 11 July, 2023. In October 2022, a further 11 Kurdish journalists were detained on terrorism charges in the provinces of Ankara, İstanbul, Van, Diyarbakır, Şanlıurfa, Mersin and Mardin in simultaneous house raids as part of an anti-terror investigation led by the Ankara Chief Public Prosecutor's Office. Their trial begins on 16 May, 2023.
Turkey has a long history of bringing criminal charges, including for terrorism offences, against independent journalists solely because of their journalistic work. The Mapping Media Freedom database records 27 alerts impacting 91 Kurdish journalists, media workers or outlets over the last 12 months. The alerts primarily consist of legal incidents usually leading to arrest, detention, imprisonment, prosecution and convictions.
We call on the authorities to immediately give the detained journalists, lawyers and political activists access to legal counsel and to disclose full details of any charges brought. Absent any credible evidence of wrongdoing, they should be released immediately from detention.
SIGNED BY
(in alphabetical order)
Articolo 21
Coalition For Women In Journalism (CFWIJ)
Croatian PEN
English PEN
European Centre for Press and Media Freedom (ECPMF)
European Federation of Journalists (EFJ)
Foreign Media Association (FMA Turkey)
Freedom House
Human Rights Watch
International Federation of Journalists (IFJ)
International Press Institute (IPI)
Media and Law Studies Association (MLSA)
Osservatorio Balcani Caucaso Transeuropa (OBCT)
PEN America
PEN Canada
PEN International
PEN Melbourne
PEN Netherlands
PEN Norway
PEN Québec
Platform for Independent Journalism (P24)
Reporters Without Borders (RSF)
San Miguel PEN
Scottish PEN
South East Europe Media Organisation (SEEMO)
Swedish PEN
~~~~~~~~~~~~~~~~~~~~~~~~~~~~~~~~~~~~~~~~~~~~~~~~
TURKISH TRANSLATION
Türkiye: Uluslararası kuruluşlar, seçim öncesi baskınlarda gözaltına alınan Kürt gazeteciler, avukatlar ve siyasi parti yetkililerinin serbest bırakılmasını talep ediyor
Medya özgürlüğü, ifade hürriyeti ve insan hakları örgütleri olarak; Kürt gazeteciler, medya çalışanları, medya kuruluşları, onları savunan avukatlar ve Kürt siyasi parti yetkililerine yönelik sistematik taciz ve gözdağı uygulamalarına son verilmesi, bu kişilerin avukata erişiminin sağlanması, kendilerine yöneltilen suçlamaların tüm ayrıntılarının açıklanması ve serbest bırakılmaları yönünde Türkiye yetkililerine çağrıda bulunuyoruz. Bu vesileyle, 14 Mayıs 2023 tarihinde yapılacak seçimler öncesinde özgür ve çoğulcu bir medya ortamına duyulan ihtiyacı yineliyoruz.
25 Nisan'da Türkiye'nin 20 ilinde aralarında gazeteciler, avukatlar, hak savunucuları, siyasi aktivistler ve sanatçıların da bulunduğu 128 kişinin ev ve ofislerine henüz tam anlamıyla belirlenmeyen suçlamalarla şafak vakti eş zamanlı baskınlar düzenlendi. Devlete ait Anadolu Ajansı, Diyarbakır merkezli operasyonun Diyarbakır Cumhuriyet Başsavcılığı tarafından yürütülen terörle mücadele soruşturmalarıyla ilgili olduğunu bildirdi. Toplam 216 kişi hakkında yakalama kararı çıkarıldığı bildirildi.
Şu ana kadar gözaltına alınanlar arasında 10 gazeteci ve tutuklu gazetecileri temsil eden bir avukat da bulunuyor. Baskınlar sırasında gazetecilere ait teknik ekipman, bilgisayar, kitap ve belgelere de polis tarafından el konuldu.
Şu ana kadar gözaltına alınan gazeteciler arasında Mezopotamya Ajansı (MA) editörü Abdurrahman Gök ve muhabirleri Ahmet Kanbal ve Mehmet Şah Oruç; Yeni Yaşam gazetesi genel yayın yönetmeni Osman Akın; Türkiye'deki tek Kürtçe basılı gazete olan Xwebûn'un imtiyaz sahibi Kadri Esen, JinNews muhabiri Beritan Canözer ve gazeteciler Mehmet Yalçın, Mikail Barut, Salih Keleş ve Remzi Akkaya bulunuyor.
Haziran ve Ekim 2022'deki benzer baskınların ardından Diyarbakır ve Ankara'da tutuklu gazetecileri temsil eden Avukat Resul Temur da baskınlarda gözaltına alındı.
Diyarbakır Barosu, soruşturmada gizlilik kararı olması ve gözaltına alınanların avukatlarıyla görüşmelerine 24 saat kısıtlama getirilmesi nedeniyle gözaltına alınanlara yöneltilen suçlamaların henüz bilinmediğini açıkladı.
Baskınlar, Türkiye'de 14 Mayıs 2023 tarihinde yapılacak olan meclis ve cumhurbaşkanlığı seçimleri öncesinde gerçekleşiyor ve ülkedeki Kürt medyasına ve siyasi muhalefete yönelik sistematik taciz ve gözdağının bir başka adımını temsil ediyor.
Daha önce Haziran 2022'de benzer bir baskın sonucunda Diyarbakır'da 20 gazeteci gözaltına alınmış, bunlardan 16'sı 11 Temmuz 2023'te başlayacak olan duruşmaya kadar terör suçlamasıyla tutuklu yargılanmak üzere tutuklanmıştı. Ekim 2022'de, Ankara Cumhuriyet Başsavcılığı tarafından yürütülen terörle mücadele soruşturması kapsamında Ankara, İstanbul, Van, Diyarbakır, Şanlıurfa, Mersin ve Mardin illerinde yapılan eş zamanlı ev baskınlarında 11 Kürt gazeteci daha terör suçlamasıyla gözaltına alındı. Duruşmaları 16 Mayıs 2023'de başlayacak.
Türkiye'nin, terör suçları da dahil olmak üzere, bağımsız gazetecilere yalnızca gazetecilik faaliyetlerinden dolayı ceza davası açma konusunda uzun bir geçmişi vardır. Mapping Media Freedom veri tabanı, son 12 ay içinde 91 Kürt gazeteci, medya çalışanı veya kuruluşunu etkileyen 27 uyarı kaydetmiştir. Bu uyarılar çoğunlukla tutuklama, gözaltı, hapis cezası, kovuşturma ve mahkumiyetle sonuçlanan yasal vakalardan oluşmaktadır.
Yetkilileri, gözaltındaki gazetecilere, avukatlara ve siyasi aktivistlere derhal avukat erişimi sağlamaya ve yöneltilen suçlamaların tüm ayrıntılarını açıklamaya çağırıyoruz. Görevi kötüye kullandıklarına dair inandırıcı bir kanıt bulunmadığı takdirde, bu kişiler derhal serbest bırakılmalıdır.
Tags:
Turkey
Freedom of expression
Safety of journalists