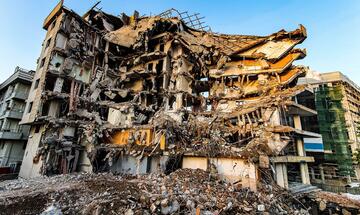 Copyrights: twintyre / Shutterstock
In the early hours of Feb. 6, two massive earthquakes hit southern Turkey and northern Syria. Measuring 7.8 and 7.5 in magnitude, they affected an area of 464 km, roughly the distance from Paris to Amsterdam. Within the first five days, the death toll in Turkey and Syria surpassed 24,000. The bodies of many more victims are expected to be found as the rubble is cleared.
In Turkey, this natural disaster immediately took on a political character. In the first hours after the earthquakes, one of the most shared statements on social media came from popular actor Feyyaz Yigit: "There's no way for me to express my feelings that wouldn't land me in jail".
This haunting statement points to the grief elicited by this disaster. It also cleverly sums up the rage felt against the government policies that have made this natural disaster all too human and reveals the bitterness that comes from being forced to self-censor even at a time like this.
Turkey, a divided country
The world has come together to aid Turkey at this dark time. The leaders of the 27 EU countries promised "full solidarity" and search/rescue teams have come from everywhere from Greece to Mexico. Turkey itself, however, is politically divided. While many earthquake survivors and volunteers complain about the slowness and inadequacy of the government's response, President Erdogan's administration is cracking down on what it calls "disinformation".
The first signs of partisanship began on the morning of the earthquake with the official read-out of Erdogan's telephone calls to the mayors of the affected metropolitan municipalities in southern Turkey. The names of two mayors were conspicuously absent: those of Hatay and Adana, both run by the main opposition Republican People's Party (CHP).
Erdogan went on to argue in a speech that a period of "unity and togetherness" had begun in Turkey, but he would be ready to challenge any "filthy campaigns made for political gain at a time like this".
The president's target seemed to be opposition leaders active in the disaster zone, like CHP Chair Kemal Kilicdaroglu, who had quickly mobilised workers from opposition-run municipalities to help repair the Hatay Airport and other damaged infrastructure. Responding to these efforts from the CHP, Vice President Fuat Oktay asked , "Who are you to be doing airport repairs?".
In response, Kilicdaroglu said he would refuse to see this natural disaster as "separate from politics". The government had spent 20 years refusing to make preparations for the long-expected earthquake, he claimed. His response to the government's threats against the opposition trying to rebuild destroyed areas quickly went viral: "Let them come and arrest me, then".
An announced tragedy?
Earthquakes are a perennial problem in Turkey. The country is located on several intersecting fault lines. Many citizens remember the 1999 Izmit earthquake that claimed over 18,000 lives. Then as now, the lack of government preparedness is a source of anger.
Despite experts long warning that the next major earthquake could happen at any time, many in the provinces most heavily hit by the earthquake — particularly Adiyaman, Kahramanmaras, and Hatay— complained about the government's unresponsiveness during the first days, as personnel from the Turkey Disaster and Management Authority (AFAD) was nowhere to be seen in many places.
"It's been 48 hours and we haven't seen any aid from AFAD. No tents, blankets, or rescue teams", complained mayor of Hatay's Samandag municipality in an interview with local television . After a disaster of this kind, the first two days are the most critical time for rescuing people who are trapped under the rubble. The snow and cold weather in Turkey's south made this race against the clock even more urgent, as survivors can die of cold exposure if they are not rescued in time.
Yet, in some of the regions affected, many citizens and municipal governments complained that the state took too long to respond. Families and untrained volunteers tried to dig people out of the rubble with their bare hands while waiting on official search/rescue teams with necessary equipment like excavators. When the governor of Adiyaman met with disaster survivors on Feb. 7, they chanted "Adiyaman has been abandoned! Where is the aid?". Public outrage grew after the governor declined to respond and simply smiled at them. Erdogan later admitted that the government had some faults and delays in its response.
As people questioned why AFAD efforts were so inadequate, news emerged about a 2022 internal report by the disaster agency pointing to many of its weaknesses. Those listed included lack of coordination, disorganisation, and a shortage of the necessary materials. On social media, many noted that the head of AFAD, İsmail Palakoglu, has no formal education in disaster relief or related fields, but studied theology. He previously worked in Turkey's Directorate of Religious Affairs.
If censorship kills
Erdogan gave his first major speech about the earthquake on Feb. 7, as debates about state inadequacy and cronyism were raging. There he declared a state of emergency in the 10 provinces affected by the earthquake and, notably, reserved a portion of his speech for critics of the government's efforts. "We are keeping track of those who intended to use fake news and distortions to turn our people against each other. Today's not the day to argue, but one day we will return to the records we're keeping today", he warned.
The next day, Turkey's General Directorate of Security announced that 202 Internet users had been identified for making "provocative posts." 18 were taken into police custody. Since then the arrests have continued and journalists have been questioned by police for "inciting the public to hatred and hostility". Turkey's Directorate of Communications quickly launched a new app to report "disinformation" or "news about the earthquake disaster that you find suspicious of false".
Many complained on Feb. 8 that social media apps like Twitter and TikTok were suddenly not working in Turkey. The website NetBlocks confirmed that the Turkish government had "throttled" these websites in a technique it has used several times before during terrorist attacks or disaster to limit access to social media. While the government did not admit to throttling social media after the earthquake and usage returned to normal the next morning, many were outraged.
Twitter, in particular, has become a central tool used by people trapped under the rubble to broadcast their location to rescue teams. Without access to the social media app, communication between survivors and volunteers was suddenly cut off. The CHP has since filed a criminal complaint against the ministers of transportation and communication for causing loss of life with this temporary block to social media access.
Finally, responses to the natural disaster have taken a political turn over the issue of construction regulations. As the famous adage goes, "It's not earthquakes that kill people but buildings". As the BBC and others have reported, Turkey has standards for earthquake safety but these are rarely enforced.
Earthquakes and building amnesties
As recently as 2018, Turkey declared a "building amnesty" that legalised buildings constructed without the legally mandated safety certificates. Even people in government circles have admitted that the earthquake is not simply a natural disaster but a policy disaster. An anonymous AKP official rhetorically asked why tragedies on this scale do not happen in Japan, a country with famously rigorous with building safety codes.
The government seems ready to prosecute developers who have used flagrantly unsafe practices. A construction mogul from Hatay province was recently arrested in the airport attempting to flee to Montenegro. Mehmet Yaşar Coskun has become notorious as the contractor behind the Ronesans Rezidans. Billed as a "slice of heaven" with apartments sold for millions of Turkish liras when completed in 2013, the 12-floor building collapsed during the earthquake, crushing hundreds of people.
However, the opposition argues that it is not just the developers that are to blame but the state, which has not sufficiently enforced construction regulations in a country that everyone knows is a seismic hotspot.
Tags:
Turkey
Censorship
Media freedom
Rule of Law
This content is part of the Media Freedom Rapid Response (MFRR), a Europe-wide mechanism which tracks, monitors and responds to violations of press and media freedom in EU Member States and Candidate Countries. The project is co-funded by the European Commission.