Publication Date: September 2015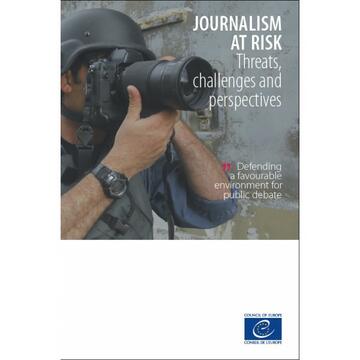 Is journalism under threat? The image of journalists, as helmeted war correspondents protected by bullet-proof vests and armed only with cameras and microphones, springs to mind. Physical threats are only the most visible dangers, however. Journalists and journalism itself are facing other threats such as censorship, political and economic pressure, intimidation, job insecurity and attacks on the protection of journalists' sources.
Social media and digital photography mean that anyone can now publish information, which is also upsetting the ethics of journalism. How can these threats be tackled? What is the role of the Council of Europe, the European Court of Human Rights and national governments in protecting journalists and freedom of expression?
In this book, 10 experts from different backgrounds analyse the situation from various angles. At a time when high-quality, independent journalism is more necessary than ever – and yet when the profession is facing many different challenges – they explore the issues surrounding the role of journalism in democratic societies.
Tags:
Safety of journalists
Access to information
Whistleblowing
Council of Europe Member States
The content of this article can be used according to the terms of Creative Commons: Attribution-NonCommercial 4.0 International (CC BY-NC 4.0) . To do so use the the wording "this article was originally published on the Resource Centre on Media Freedom in Europe" including a direct active link to the original article page.