Publication Date: July 2017
Research and Editorial Team: Ulla Carlsson, David Goldberg (editors)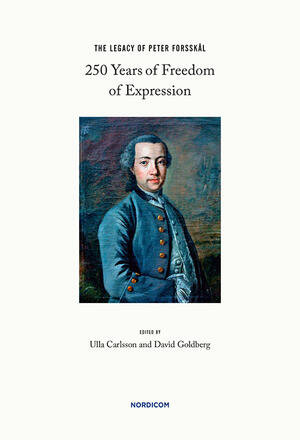 For the first time in the world, in 1766 Sweden adopted an Ordinance Relating to Freedom of Writing and of the Press, which was meant to define and protect the freedom of expression within the kingdom, and which constituted an important point of reference for the successive legislation in the field. In occasion of the 250th anniversary of the adoption of the Ordinance, a seminar was organized in Helsinki on May 3, 2016, mostly gathering Nordic scholars; the book, edited by Ulla Carlsson and David Goldberg, is based on that seminar.
Peter Forsskål was one of the main intellectuals behind Sweden's Ordinance of 1766, thanks to his pamphlet Thoughts on Civil Liberty. What the authors of the book do is to connect Forsskål's thought with the developments that took place in Sweden and Finland since the 18th century on the one hand, and with the developments that are currently being experienced by the freedom of expression on the other hand. In this way, the Ordinance's anniversary is taken as an occasion to discuss history and the current state of affairs.
The book is formed by some historical chapters, a couple of them focusing on the figure of Forsskål himself and on the Ordinance of 1766, and a couple of them providing a long-term view on the development of the freedom of expression in Sweden and Finland. In the rest of the volume, authors analyze specific aspects of the freedom of expression in today's Nordic countries and in Europe more in general, such as the threats being moved against it and the rules on public access to information.
The book was published by Nordicom and can freely be downloaded from its website.
Tags:
Sweden
Freedom of expression
The content of this article can be used according to the terms of Creative Commons: Attribution-NonCommercial 4.0 International (CC BY-NC 4.0) . To do so use the the wording "this article was originally published on the Resource Centre on Media Freedom in Europe" including a direct active link to the original article page.