Publication Date: January 2015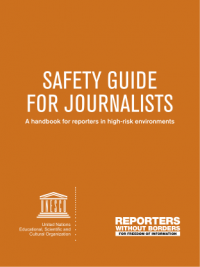 In partnership with UNESCO and supported by the Kingdom of Sweden, Reporters Without Borders has brought out a new edition of the safety guide for reporters in high-risk environments. First published in 1992 and updated several times since, this handbook has also been translated into several languages and distributed on every continent.
Stressing the importance of well-prepared planning before taking assignments in dangerous missions, the guide contains a wide range of information to enhance the safety of journalists and provides essential tools concerning finances, insurance, health precautions, accommodation and fixer's choice, equipements, physical and psychological training. The newly added chapters highlight the issue of digital safety and elaborate on safety precautions for natural disasters, epidemics, and sexual violence.
This guide does not claim to be exhaustive, but with seven appendices of direct testimonies it aims to provide an important body of experience acquired over the years. The advices collected in these pages addressed to all journalists who report from hostile environments (such as conflict zones, violent demonstrations, riots and terrorist attacks) but not only, since according to the UNESCO's report the vast majority of those killed in the course of their work are local journalists reporting on local stories.
By gathering good practices from many different sources, the Guide furthermore embodies the desire of all partners to strengthen every aspect of the safety of journalists and to fight against impunity.
Tags:
Digital safety
Investigative journalism
Ethics of journalism
Safety of journalists
War reporting
The content of this article can be used according to the terms of Creative Commons: Attribution-NonCommercial 4.0 International (CC BY-NC 4.0) . To do so use the the wording "this article was originally published on the Resource Centre on Media Freedom in Europe" including a direct active link to the original article page.