Publication Date: August 2015
Research and Editorial Team: Association of Journalists of Macedonia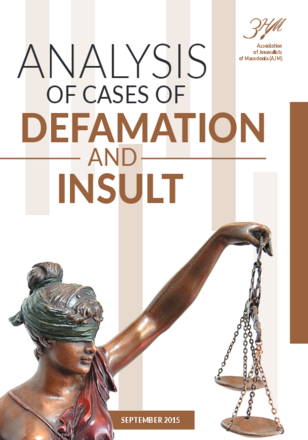 AJM followed 39 lawsuits of defamation and insult involving journalists in Macedonia in the period from October 2014 until June 2015, with the aim of assessing the extent to which Macedonian Courts apply the principles developed by the jurisprudence of the European Court of Human Rights. This monitoring effort is crucial because the instrumental use and abuse of legal proceedings against journalists has been pointed out as one of the main causes of the drop in media freedom registered in Macedonia in these last years. The outcome of the monitoring activity highlights how the Court issued eight judgments, out of which 7 verdicts dismissed the plaintiff's claim, and only one verdict upheld the initial request. The court acted in accordance with the Law on Civil Liability for Defamation and insult. In 17 of the considered cases, journalists were sued by their colleagues. A considerable delay was registered in most of the cases, as the deadlines for the publication of decisions within the period specified by law were not respected. An in depth analysis of the results, the proceeding and compliance with the Macedonian legislative framework and ECtHR jurisprudence is provided in the report.
Tags:
Defamation and Libel
North Macedonia
The content of this article can be used according to the terms of Creative Commons: Attribution-NonCommercial 4.0 International (CC BY-NC 4.0) . To do so use the the wording "this article was originally published on the Resource Centre on Media Freedom in Europe" including a direct active link to the original article page.