Publication Date: March 2022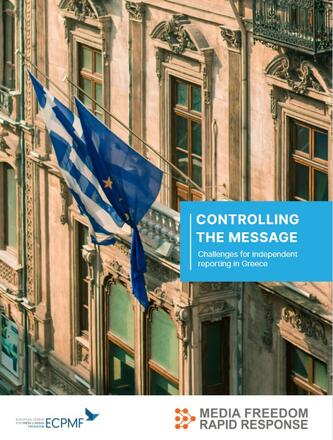 The result of this crisis is that news that is inconvenient or unflattering for the government, which includes reporting on serious human rights violations, does not get reported in many outlets. This creates a significant obstacle for the public's access to information and, subsequently, their informed participation in the democratic process.
Understanding the political polarisation and fragmentation of the media landscape requires taking the long view. The current situation has been shaped by more than a decade of severe financial and political crisis which has harmed the way journalism is understood. At the same time, there has been a deterioration of press freedom since Nea Dimokratia's electoral victory in 2019, who are "obsessed with controlling the message" and minimising critical and dissenting voices, as we heard again and again during the fact-finding mission.
The murder of crime reporter Giorgos Karaivaz represents a low point for media freedom in Greece and drew international attention to the significant problems with journalists' safety. The investigation progress appears slow and lacks basic transparency, which has had a chilling effect and leads to mistrust about the authorities' ability or willingness to protect the journalistic community.
Migration policy, human rights violations committed in its implementation including pushbacks, and the humanitarian crisis that the refugee stream has created are highly sensitive topics for the government. Reporting on the issue is increasingly difficult, as journalists face obstructions including arbitrary arrest and detention, restriction of access to migration hotspots, surveillance, and harassment.
Tags:
Greece
The content of this article can be used according to the terms of Creative Commons: Attribution-NonCommercial 4.0 International (CC BY-NC 4.0) . To do so use the the wording "this article was originally published on the Resource Centre on Media Freedom in Europe" including a direct active link to the original article page.