Publication Date: July 2020
Research and Editorial Team: Ifade Özgürlüğü Derneği – Freedom of Expression Association: YAMAN AKDENİZ and OZAN GÜVEN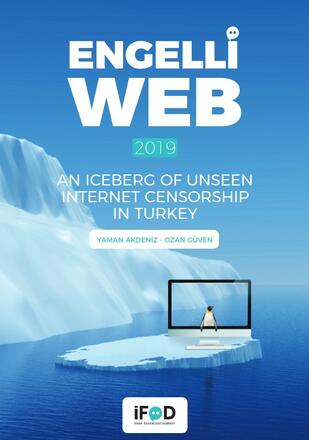 According to the results of this report, the practices to block widespread access to the Internet continued in Turkey as in previous years.
The number of domain names, websites, news articles, social media accounts, and social media content items blocked from Turkey significantly increased in 2019: the number of websites blocked from Turkey reached 408,494 as of end of 2019.
While the Constitutional Court has given nearly 35 separate judgments on Internet and access blocking practices, including the Wikipedia judgment, the principle-based approach of the Constitutional Court had no positive effect on the access-blocking orders that continued to be issued by criminal judgeships of peace in 2019.
This report examines the access-blocking orders issued in 2019.
The methodology of this study includes the monthly scanning of approximately 202 million domain names; the weekly scanning of 3.7 million current news articles from 82 different news websites; the monthly scanning of approximately 33 million archived news articles; the real-time connectivity tracking and monitoring of whether 105 different domain names, including Wikipedia, YouTube, Twitter, Facebook, and certain news websites are blocked from Turkey; the identification of the blocked, removed or country withheld content including videos, accounts, and social media content items from Turkey by using the YouTube and Twitter Application Programming Interface (API); the identification and analysis of access-blocking orders submitted to the Lumen database by using its Application Programming Interface and the tools developed by Lumen for researchers and the analysis of the access-blocking orders sent by certain news websites to the İFÖD team.
Rich in tables and figures, this reports concludes that "the rise in censorship in Turkey has reached to an astonishing level as shown in the annual transparency reports published by social media platforms. The ranking of Turkey in the Twitter Transparency Reports is strikingly worrying, especially when compared to other countries. Since the rate of political debate and expressions is higher in Twitter than in any other social media platforms in Turkey, the total number of removal and withholding requests for accounts and tweets is much higher in Turkey than in Russia and Japan".
Tags:
Turkey
Censorship
Access to information
Media freedom
Online news Online media
Digital rights
Cybersecurity
The content of this article can be used according to the terms of Creative Commons: Attribution-NonCommercial 4.0 International (CC BY-NC 4.0) . To do so use the the wording "this article was originally published on the Resource Centre on Media Freedom in Europe" including a direct active link to the original article page.