Publication Date: January 2017
Research and Editorial Team: Ethical Journalism Network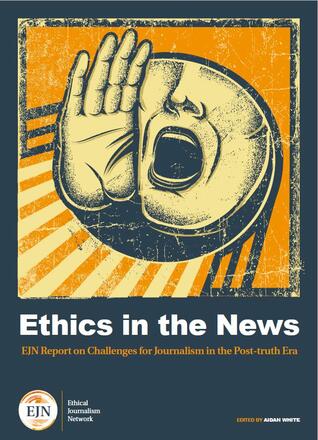 The EJN (Ethical Journalism Network) report sheds light on different challenges like detecting and preventing hate-speech, biased coverage or fake-news which journalists are facing in the so-called post-truth era. It exemplifies these phenomena by different reports on current violations of ethical reporting, but also tries to provide advice for journalists on how to cope with these. The following topics are presented in the report:
Hate-Speech: The increasing use of hate-speech and false-facts in established media and social media channels is illustrated in different contexts like the 2016 presidential election in the US and political and ethnical tensions in Asian and African countries. The reports also show which attempts are made to prevent hate-propagating language in the media.
Fake-News: Studies show that people get around 50 percent of their news from Facebook, which can also be seen as the biggest platform for fake-news. Which responsibility does Facebook have as a publisher? The report also looks into Britain's media coverage about the EU, which was mostly negative, and asks which role the media played in the outcomes of the Brexit vote.
Sources: On the example of the release of confidential information through Edward Snowden, the report tries to give journalists a guideline on how to deal with (confidential) sources and how to ensure the credibility of sources and stories.
Censorship: The article gives an oversight on the situation of journalists in Turkey after the July 2016 coup attempt and explains mechanisms of state-censorship and self-censorship.
Ethical reporting: The style and the sensitive use of terms to report on critical issues influence the societal view and the judgment of it. How to report ethically responsible is subject to two reports, on how to report on the so-called "honor-Killings" and on the so-called "refugee-crisis".
Tags:
Ethics of journalism
Fake news and disinformation
Hate speech
Media and gender
Social media
Media funding
Whistleblowing
Turkey
Worldwide
The content of this article can be used according to the terms of Creative Commons: Attribution-NonCommercial 4.0 International (CC BY-NC 4.0) . To do so use the the wording "this article was originally published on the Resource Centre on Media Freedom in Europe" including a direct active link to the original article page.