Publication Date: September 2018
Research and Editorial Team: Adrian Shahbaz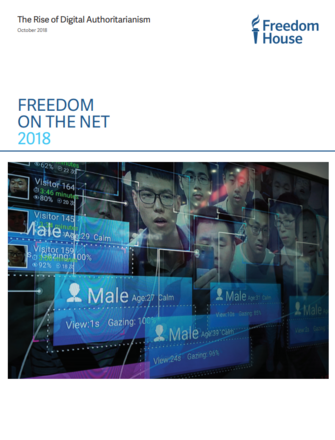 In 2018, global Internet freedom declined for the eighth consecutive year.
The report assesses 87% of the world's Internet user population (nearly 3.7 billion people): 20% is in a free country, while 33% and 34% live in a partly free and not free country respectively. Of the 65 countries assessed, 26 have declined, while 19 have registered some improvements. The largest score declines took place in Egypt and Sri Lanka, followed by Cambodia, Kenya, Nigeria, the Philippines, and Venezuela (and score declines in the Philippines and Kenya led also to status downgrades). Of the 19 countries with overall score improvements, Armenia and the Gambia earned upgrades in their Internet freedom status.
The ratings are determined by examining three broad parameters: obstacles to Internet access, limits on content, and violations of user rights.
China was the worst abuser of Internet freedom, with the implementation of a cybersecurity law and the introduction of new surveillance technologies. In order to protect public order and national security, these tools are used to limit civil liberties of local activists and citizens. Furthermore, China also organises trainings of foreign officials around the world, provides technology to authoritarian governments, and asks international companies to comply with its regulations even when operating outside the country.
More and more countries are shifting towards the Chinese model because digital authoritarianism has been seen as a solution to tackle data scandals and online manipulation. Governments use disinformation and hate speech as an excuse to curb online dissent or independent reporting, for example by regulating social media users as media outlets, enforcing criminal penalties for the publication of alleged false news, or even cutting off Internet access. Authorities are increasing IT companies' responsibility to monitor and remove illegal contents from their platforms, sometimes even demanding control over personal data.
Media literacy initiatives and other programmes to counter disinformation have been successfully developed through cooperation between civil society, governments, and tech companies, showing that there are alternative models for managing these issues. Some countries are adopting new privacy policies, but there is a general lack of transparency on the collection, use and, control of personal data. Even though the GDPR is defective under several aspects, it remains one of the most ambitious attempts to regulate data collection and a valuable instrument to protect user data from misuse.
The report concludes with some recommendations for policymakers, IT companies, and civil society to tackle digital authoritarianism and protect democracies and the political public sphere.
Tags:
Access to information
Censorship
Fake news and disinformation
Freedom of expression
Media freedom
Social media
The content of this article can be used according to the terms of Creative Commons: Attribution-NonCommercial 4.0 International (CC BY-NC 4.0) . To do so use the the wording "this article was originally published on the Resource Centre on Media Freedom in Europe" including a direct active link to the original article page.