Publication Date: November 2019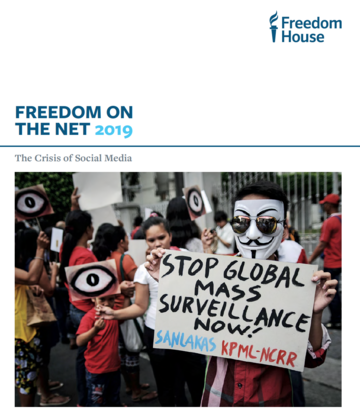 In 2019, global Internet freedom declined for the ninth consecutive year, and one of the reasons is tied to the role of social media in exposing citizens to an unprecedented crackdown on their fundamental freedoms.
While social media provide people with space for civic discussion, they are now also used to facilitate surveillance and electoral manipulation, and have also enabled the collection and analysis of vast amounts of data on entire populations.
Research shows that every year repressive governments exploit emerging technologies and acquire social media surveillance tools to identify perceived threats and silence inconvenient voices. The result is a sharp global increase in the abuse of civil liberties and shrinking online space for civic activism.
China confirmed its status as the world's worst abuser of Internet freedom for the fourth consecutive year, while Iceland became the world's best protector of Internet freedom.
Politicians and hyperpartisans use digital means to manipulate elections
Even though Russia and China have been implicated in cyberattacks and information warfare linked to elections in democratic states, most of the analysed cases involved domestic actors.
Researchers identify three distinct forms of digital election interference:
informational measures, in which online discussions are manipulated in favour of the government or particular parties, in particular the extremist ones. Last year, these measures were the most popular and effective;
technical measures, which are used to restrict access to news sources, websites, communication tools, and in some cases the entire Internet. Technical restrictions often take the form of cyberattacks;
legal measures, which authorities apply to punish regime opponents and chill political expression. Several countries introduced legal measures, such as criminal charges (mainly for defamation), and new rules to control online speech during election periods.
Governments harness big data for social media surveillance
The booming commercial market for social media surveillance has lowered the cost of entry, and governments are increasingly purchasing sophisticated technology to monitor their citizens' behavior on social media. Advances in artificial intelligence have opened up new possibilities for automated mass surveillance, causing even stronger chilling effects on free expression and squeezing the space for civic activism on digital platforms
40 of the 65 countries covered by the report have established advanced social media surveillance programmes, meaning that 89% of Internet users (nearly 3 billion people) are being monitored.
Recommendations
In conclusion, researchers suggest several recommendations for policymakers, the private sector, and civil society on how securing elections, preventing abusive social media surveillance, and protecting Internet freedom.
Tags:
Social media
Surveillance
Freedom of expression
Fake news and disinformation
Media freedom
Censorship
The content of this article can be used according to the terms of Creative Commons: Attribution-NonCommercial 4.0 International (CC BY-NC 4.0) . To do so use the the wording "this article was originally published on the Resource Centre on Media Freedom in Europe" including a direct active link to the original article page.