Publication Date: May 2018
Research and Editorial Team: Article 19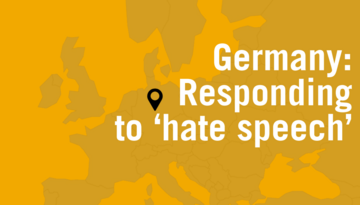 This report examines legislation, policies, and practices related to 'hate speech' in Germany, with a particular focus on the media. It examines compliance with international freedom of expression standards and offers recommendations for improvement. It also describes recent changes to legislation related to 'hate speech', in particular in regard to social media networks.
During the last few years there has been surge of 'hate speech' and intolerance in Germany, particularly against refugees, migrants, and asylum seekers. This has been accompanied by a great deal of uncertainty regarding how to respond to the issue of intolerance, resulting in hasty and sometimes contradictory reactions by law enforcement agencies, legislators, policy-makers, and civil society.
Equally, State authorities seem indecisive regarding the interpretation of international freedom of expression standards, privacy, and equality rights in the context of social media and the online environment in relation to 'hate speech,' often to the detriment of the right to freedom of expression.
Despite the fairly robust protection afforded to both the right to freedom of expression and equality by German law, the existing legal framework on 'hate speech' does not fully comply with international human rights standards. Criminal law does not offer guidance or a threshold test to assist in the assessment of 'hate speech' cases. In their jurisprudence, Germany's highest courts have repeatedly demonstrated that – in an attempt to protect the public debate – they tend to apply the requirement of 'pursuit of truth', rather than harm, in 'hate speech' cases, in particular those concerning Holocaust denial. Furthermore, higher courts have often issued contradicting decisions in comparable 'hate speech' cases, creating legal uncertainty about how relevant provisions should be interpreted by the lower courts. Additionally, the German Criminal Code contains a number of provisions on, for example, insult, defamation, defamation of religion, and insult of state symbols, which are contrary to international human rights standards.
Civil law remedies are insufficient to provide redress to victims of 'hate speech'. The General Act on Equal Treatment (AGG), which also applies to discrimination in civil law matters, has been criticised for providing a very short period (two months) within which victims can initiate damage claims and injunctions for 'hate speech.' The AGG also fails to establish a right of class action for non-governmental organisations (NGOs) working in the field of discrimination.
In the field of administrative law, the 2017 Network Enforcement Law (NetzDG) is particularly problematic. It was introduced to speed up the process of removing online 'hate speech' and to reduce 'hate speech' on social networks. However, its provisions are vague and overbroad, it lacks clear definitions, and decisions on 'hate speech' cases have been placed with private actors under the penalty of hefty fines; all of this led to pre-emptive censoring of content by social media companies even prior to the adoption of the Law. Since NetzDG entered into force, it has led to over-blocking and the censoring of legitimate speech, including satire and political speech, without any remedy.
In the media law framework, there are a number of positive provisions. All laws on public service broadcasting have provisions related to hatred and discrimination in the media, as well as provisions on pluralism and diversity. Many public broadcasters offer programmes for minorities and immigrant communities in different languages.
Unfortunately, despite a number of initiatives countering 'hate speech' and intolerance in the media, the German government has yet to adopt a comprehensive policy on the media and 'hate speech'. Additionally, media regulators lack specific guidelines or codes on 'hate speech,' and have been criticised for being overly passive and disengaged in this area; they rarely issue reprimands on any grounds. 'Hate speech' cases are instead being referred to criminal prosecution.
While Germany has several agencies tasked with promoting anti-discrimination policies and equal opportunities for all groups in society, the Federal Anti-Discrimination Agency has a fairly limited role in addressing 'hate speech.' Unlike equality bodies in several European Union countries, it is not mandated to provide legal aid to victims. The Agency cannot act on its own initiative regarding any cases, and does not have a mandate to identify and eliminate structural discrimination in the private or public sector.
Summary of recommendations:
All relevant legislation – in particular criminal law provisions – should be revised into compliance with the international human rights standards applicable to 'hate speech.'
The Criminal Code should undergo comprehensive review: all offences that are not compatible with international freedom of expression standards should be abolished, in particular blanket provisions on Holocaust denial, criminal defamation, and insult, as well as defamation of religion and defamation of state symbols.
The advocacy of discriminatory hatred which constitutes incitement to hostility, discrimination, or violence should be prohibited in line with Articles 19(3) and 20(2) of the International Covenant on Civil and Political Rights, establishing a high threshold for limitations on free expression (as set out in the Rabat Plan of Action).
The Network Enforcement Act (NetzDG) should be repealed, with consideration given to provisions on reporting requirements in alternative legislation to increase transparency around online content moderation by private actors.
The Youth Protection Act should be amended: in particular, it should ensure due process procedures for blocking of online content.
Germany's anti-discrimination/equality legislation should be amended. Equality institutions should be granted real political and governmental independence, and should be equipped with a more robust mandate to address the problem of discrimination and intolerance. They should be able to provide legal aid to victims, the right to act on thier own initiative, and the right to work towards tackling structural discrimination.
The Government should develop a comprehensive policy on the media and 'hate speech' in cooperation with public broadcasters and media regulators.
The Press Council should increase its internal diversity, and in particular ensure that it includes members from minorities and other groups subject to discrimination. They should also develop further guidelines on reporting on groups subject to discrimination, and streamline the complaint process to prevent individuals being discouraged from bringing claims. Effective measures should be taken to address violation of ethical codes of conduct. The Press Council should also organise regular training courses and updates for professional and trainee journalists on human rights standards on 'hate speech' and freedom of expression, and on the relevant ethical codes of conduct.
Public officials, including politicians, should acknowledge that they must play a leading role in recognising and promptly speaking out against intolerance and discrimination, including instances of 'hate speech.' This requires recognising and rejecting the conduct itself, as well as the prejudices of which it is symptomatic; expressing sympathy and support to the targeted individuals or groups; and framing such incidents as harmful to the whole of society. These interventions are particularly important when intercommunal tensions are high, or are susceptible to being escalated, and when political stakes are also high, such as in the run-up to elections.
Media organisations and media outlets should also recognise that they play an important role in combatting 'hate speech', intolerance, and prejudice in the public discourse. They should intensify their efforts to provide adequate responses. They should ensure that they fully respect relevant ethical codes, as well as ensuring that ethical codes of conduct on 'hate speech' are effectively implemented, and that effective measures are undertaken to address any violations. The ethical codes should be internalised by journalists and media outlets in order to ensure full compliance. Media outlets should also increase ethnic, religious, and gender plurality amongst journalists, editors, media workers, and other employees of public service broadcasters.
Tags:
Germany
Media freedom
Hate speech
The content of this article can be used according to the terms of Creative Commons: Attribution-NonCommercial 4.0 International (CC BY-NC 4.0) . To do so use the the wording "this article was originally published on the Resource Centre on Media Freedom in Europe" including a direct active link to the original article page.