Publication Date: April 2012
Research and Editorial Team: Verica Rupar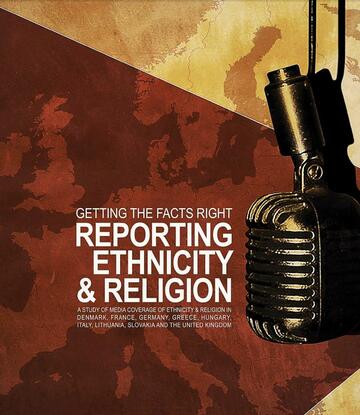 This study about the media coverage of ethnicity and religion, produced by the Media Diversity Institute in partnership with ARTICLE 19 and the European Federation of Journalists and its Ethical Journalism Initiative campaign, analyses how the increased interest in ethnic and religious issues has influenced journalism in the last decade. Particularly, it shows how good journalism can play a crucial role in breaking down walls of ignorance, bigotry and injustice or, oppositely, how unethical reporting on immigration, globalisation, economic insecurity and multiculturalism fuels nationalism and spreads fear and tensions instead of promoting tolerance and compassion.
The study focuses on the journalists, instead of the news text, with extensive interviews with 117 journalists and editors based in nine EU countries, corresponding to three geographical clusters and journalism cultures (Mediterranean countries, Northwest European countries, and New EU States). Overall, the work is based on the analysis of 299 news stories.
The battle for good and inclusive journalism is far from over, despite the journalistic codes of conducts - which require the awareness of the journalistic social responsibility - and the fact that most of the journalists acknowledge that respect of differences is crucial for the wellbeing of their society.
One example is the media representation of Roma people, or the coverage of religious issues, which is mainly concentrated on events and controversies related to Islam.
Editors and journalists also recognises that most of their readers have a very poor level of knowledge about minority social groups and different religions. Among the main obstacles to good reporting are poor financial state of the media, overloading of reporters, lack of time and of relevant knowledge, and insufficient of in-house training.
Issues connected with ethnicity and religion are investigated through the analysis of articles/reportages divided by topic-based case-studies (immigration, poverty and crime, discrimination, racism and segregation, politics, ethnic minorities, extremism, stereotypes, integration, antisemitism, sex scandals, homosexuality). The picture that emerge is really mixed, reflecting diverse societies, sensibilities, political approaches, and, in some cases, populism.
The study provides recommendations to support ethical, value based journalism able to be followed by all professionals, regardless of situation and context.
Tags:
Denmark
France
Germany
Hungary
Italy
Lithuania
Slovakia
United Kingdom
Ethics of journalism
The content of this article can be used according to the terms of Creative Commons: Attribution-NonCommercial 4.0 International (CC BY-NC 4.0) . To do so use the the wording "this article was originally published on the Resource Centre on Media Freedom in Europe" including a direct active link to the original article page.