Publication Date: January 2017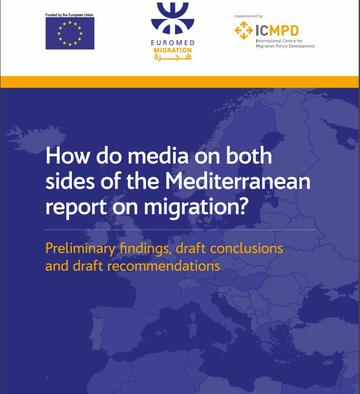 Media coverage is vital to shaping people's opinions on migration and the plight of refugees and asylum
seekers. Especially in the last two years, migration coverage have also come to represent a stern tests of media professionalism. Faced with a complex phenomenon involving humanitarian aspects, requiring in depth knowledge of national and international regulations as well as awareness about the social implications of migrations, journalism has been struggling in order to keep up to professional standards while covering migrations.
This study provides an insight into how the media have reported on a broad and complex topic in the midst of what was repeatedly described as a crisis. The report is based on expert reflections from 17 countries, mostly around the Mediterranean, who have examined the quality of media coverage within their respective national contexts.
As also exposed by previous studies such as Ethical Journalism Network Moving Stories and country specific analysis such as Carta di Roma annual report,media coverage of migration in recent times provides a significant number of examples of good work marked by careful, sensitive and humanitarian reporting. At the same time, shortcomings persist which are often relate to media coverage being driven by political bias, hate speech and opportunism.
Undue political influence, self-censorship inside newsrooms and a prevailing lack of resources hampers the preparation of in-depth, well-researched editorial work needed for reporting in context, thus leaving journalists with a twofold approach to reporting migration: on the one hand, the emotional coverage, emphasizing the humanitarian crisis or fears of invasion; on the other, the approach based on numbers that further reduces the voice of migrants in the news coverage. Along with this, other reasons causing poor reporting are the persistence of hate speech, loose language and strongly national focus in reporting migration. As a result much of the media coverage of migration reflects political bias and is superficial, simplistic and often ill-informed.
Further issues emerge as the coverage of migrations becomes more layered and codes of conduct are adopted by journalists (such as the Charter of Idomeni in Greece and the Charter of Rome in Italy): most media, the report appreciates, "strive to avoid reporting racist and extremist propaganda relating to migration, but some journalists are concerned that this may inhibit reporting on the often legitimate fears of people living in host communities."
While confirming that media narratives continue to shape public opinion despite the increasing impact of social media, this study also highlights a twofold role: "in all countries, journalism is a distorting lens as much as a magnifying glass. On the one hand it can expose inhumanity and corruption in the way that migrants are treated, and on the other it has proven prone to follow an agenda that inspires discrimination and hate."
Recommendations for improving coverage are set forth in the publication, including the need for new initiatives to help media better explaining the process of migration, its role in human history and its contribution to national and regional development.
Tags:
Hate speech
Austria
France
Germany
Greece
Hungary
Italy
Malta
Spain
Sweden
The content of this article can be used according to the terms of Creative Commons: Attribution-NonCommercial 4.0 International (CC BY-NC 4.0) . To do so use the the wording "this article was originally published on the Resource Centre on Media Freedom in Europe" including a direct active link to the original article page.