Publication Date: September 2016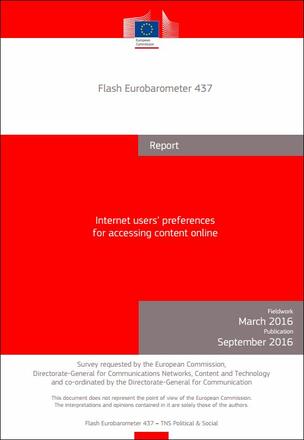 This Flash Eurobarometer survey was designed to explore a range of aspects regarding how Internet users access online content such as music, films/TV series, images and news.
This Flash Eurobarometer was carried out between 10 and 21 March 2016. The figures are based on some 13,500 internet users aged 15 to 45 years in the 28 Member States. This survey specifically focuses on Internet users aged 15 to 45 years old, and was carried out at the request of the European Commission's Directorate General for Communications Networks, Content and Technology in the 28 Member States of the European Union, between 10 and 21 March 2016.
In addition to looking at the frequency of the use of Internet to access cultural content online and at the respective importance of accessing these contents for free and against payment, the survey looks into the types of online services they most often use to access different types of content online. It also looks into the criteria which matter most to them when choosing the service they use.
The majority of respondents declared using the Internet to access various types of cultural content in digital format more than once a week: 72% of respondents declare using the Internet to access the press or news more than once a week, followed by 63% for music, 54% for images and 53% for films or TV series. Respondents predominantly use free services to access all four types of content: nearly eight in ten respondents (78%) mentioned using free services (exclusively or mainly) to access music online. Similarly, 70% of respondents use exclusively or mainly free services to access films or TV series online, and this proportion reaches 85% for images and 87% regarding access to online news.
With regard to access to news online, the respondents most often use the four following types of services: the websites or apps of newspapers or magazines (42%), online social media (22%), search engines (21%) and online news aggregation services (14%). The four important criteria most often mentioned when choosing a service to read the news online are: the service is free (77%); it doesn't require any registration (54%); opening or reading an article is not interrupted or disturbed by ads (40%) and the service is offered by a newspaper or magazine with a good reputation (35%).
At national level, in all but three countries mentioned hereafter, newspaper and magazine websites or apps were mentioned as the type of service most often used to access the news online, with the highest proportions of respondents in Finland and Luxembourg (both 68%) and Estonia (67%). At the other extreme, this answer was given the least by respondents in Latvia (27%), Italy and Poland (both 31%).
In three countries, online social media was mentioned as the type of service most often used to access the news online: Latvia (53%), and Bulgaria and Slovakia (both 40%). At the other end of the scale, less than one in five respondents in Finland (14%), the Netherlands (15%) and Estonia (16%) gave this answer. Over a quarter of respondents in Italy (29%) and Poland (28%), and over one in five in the United Kingdom, France and the Czech Republic (all 23%) mainly use search engines to access the news online. This answer was mentioned the least by respondents in Estonia and Luxembourg (both 4%) and Finland (6%).
The complete report as well as country-specific factsheets can be accessed here .
Tags:
EU Member States
Online news Online media
The content of this article can be used according to the terms of Creative Commons: Attribution-NonCommercial 4.0 International (CC BY-NC 4.0) . To do so use the the wording "this article was originally published on the Resource Centre on Media Freedom in Europe" including a direct active link to the original article page.