Publication Date: May 2020
Research and Editorial Team: ECPMF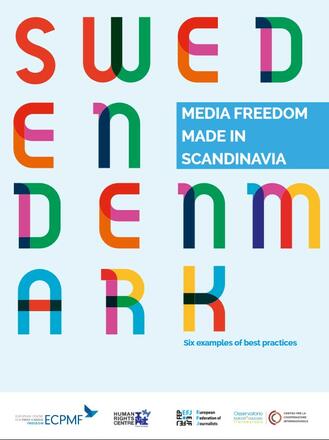 In December 2019, representatives of the European Centre for Press and Media Freedom (ECPMF), the European Federation of Journalists (EFJ), and Osservatorio Balcani Caucaso Transeuropa (OBCT) visited Denmark and Sweden to answer the following questions: why does Scandinavia regularly lead the rankings for media freedom? What can others learn and adopt from this region?
The main findings of the fact-finding mission cover all aspects of the work of the media.
Media ownership: independent foundations are a promising tool and should be implemented in other countries too.
Trade unions: for journalists, union membership is very important and helps protect members, foster media ethics, and stimulate political support for media pluralism.
Media state subsidies: neutral help from the state helps keep independence, but it should incorporate digital transition and innovation.
Public Service Media: editorial independence and a strong dialogue with the audience help keep trust in public service media high.
Media accountability systems: Nordic media councils are benchmarking in terms of their composition, independence, and transparency.
National legislations: constitutional, civil, and criminal law on media freedom helps avoid defamation cases and thereby encourages investigative journalists.
The mission participants conducted in-depth interviews with a series of experts, including Tine Johansen, President of the Danish Union of Journalists; Mark Blach-Ørsten, Professor of Journalism at Roskilde University; Stig Kirk Ørskov, Chief Executive Officer of JP/Politikens Hus; and Mart Ots, Professor at Jönköping University and member of the Swedish Media Subsidies Council.
Tags:
Media capture
SLAPP
Freedom of expression
Media freedom
Media ownership
Media pluralism
Sweden
Denmark
The content of this article can be used according to the terms of Creative Commons: Attribution-NonCommercial 4.0 International (CC BY-NC 4.0) . To do so use the the wording "this article was originally published on the Resource Centre on Media Freedom in Europe" including a direct active link to the original article page.