Publication Date: May 2016
Research and Editorial Team: Gilles Fontaine, Deirdre Kevin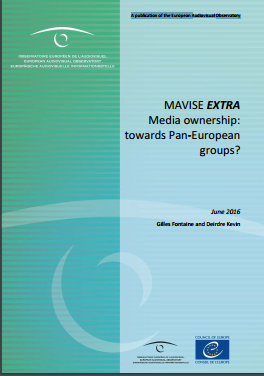 Pan-European distributors benefit from specific economies of scale. Wider geographical spread implies more subscriber revenues and the possibility to develop infrastructure, opportunity to create synergies in technology and harmonization of devices and services. It is important to note –as the authors stressed - that the majority of distribution companies are also strongly vertically integrated into the value chain of audiovisual services: they are producing and packaging as well as distributing content. The development of pan-European distribution groups has been influenced by a range of circumstances including liberalization and privatization of national telecommunications markets; digitalization and the development of broadband networks which facilitated telecommunications services' delivery of audiovisual content.
The report offers an overview of television channels and companies in the European Union and candidate countries, focusing on pan-European groups – those companies that operate across a range of countries in Europe - based on a selection of major players, giving a summary of the state of play of concentration at the national level about broadcasting markets and pay TV distribution markets. The development of concentration over time is also presented.
The analysis is based on MAVISE database, which is developed by the European Audiovisual Observatory.
Methodological clarifications and a frame of references about developments in the concentration of TV audiences in Europe are provided at the beginning of the report.
Profiles of a selection of significant media groups operating in Europe in the fields of broadcasting, on-demand and audiovisual service distribution are also included. The selection is by no means exhaustive and includes six of the fifteen most important pan-European distribution groups. This list of fifteen would include Altice, Deutsche Telekom AG, Liberty Global Group, M7 Group, Orange (France Telecom), RCS/RDS, Sky Plc, Telefonica, Telekom Austria Group, Telenor, Teliasonera, United Media Group, VIASAT/ Modern Times Group, Vivendi, Vodafone Group plc.
This "multi-country" broadcasters are pan-European actors with channels that play an important role in various national markets (for example CEME, RTL, MTG, Sanoma) and tend to be generalist free to air channels with a high market share. In addition the general strategy of these groups has been to establish companies in each country to launch channels, or buy into existing channels (and eventually increase ownership shares). Most of these companies have also developed niche channels which may be available free to air over the DTT networks (since the implementation of digital terrestrial television) or as pay-TV over the cable, satellite and IPTV platforms.
Pan-European groups tend to establish in one or two European countries as a hub from which to license their pan-European channels for broadcast throughout Europe. Such hubs include the UK, the Czech Republic, the Netherlands and to a less extent Spain and Bulgaria.
Tags:
Media ownership
Media pluralism
The content of this article can be used according to the terms of Creative Commons: Attribution-NonCommercial 4.0 International (CC BY-NC 4.0) . To do so use the the wording "this article was originally published on the Resource Centre on Media Freedom in Europe" including a direct active link to the original article page.