Publication Date: November 2020
Research and Editorial Team: Bojan Perkov, Sofija Todorović, Anka Kovačević, Kristina Ćendić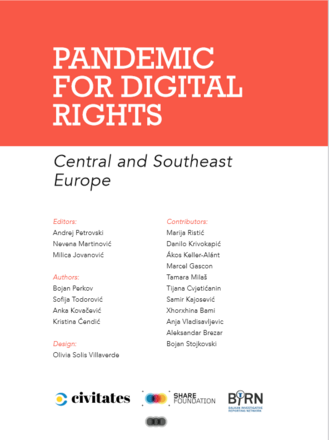 The global public health crisis caused by the COVID-19 pandemic confirmed that the decades-long discussion on striking a better balance between security and privacy interests still hasn't provided the world with a better framework. Moreover, efforts to contain the outbreak in various countries justified turning a blind eye to misuses of technology and abuses of power, coupled with ever stronger political attempts to renegotiate human rights as such.
After a detailed overview of violations country by country, the report gives some recommendations, such as:
Urgent alignment of national personal data protection laws with the EU General Data Protection Regulation (GDPR) and Council of Europe Convention in countries that have not yet done so (such as Bosnia and Herzegovina, Montenegro, North Macedonia, Kosovo);
Improvement of information security standards and their practical application, together with regular supervision by the competent state bodies;
States should refrain from using high monetary fines, detentions and arrests as forms of intimidation against citizens, and especially journalists who are reporting on the governments' response to the pandemic;
Measures such as state of emergency or martial law, which largely affect humanrights, should only be introduced in the most critical times and for a predetermined and limited period;
Technological solutions and innovations must be applied in accordance with the legal framework on personal data protection and information security;
Surveillance of citizens' communications and movements must not be carried out on a massive scale and in discretional extra-judicial processes;
Education of state administration personnel on personal data protection and information security;
Detection and efficient legal prosecution of suspects for threats and pressure against journalists and civic activists in the digital environment;
It is essential that the competent authorities provide clear, truthful, complete and timely information on key issues of public interest, in particular about the pandemic, and cooperate openly with journalists who report on these issues;
More active work on improving media and information literacy, as well as the digital security of the population, especially children and youth, through formal and non-formal education and informational campaigns.
Tags:
COVID-19
Digital rights
Digital safety
Cybersecurity
The content of this article can be used according to the terms of Creative Commons: Attribution-NonCommercial 4.0 International (CC BY-NC 4.0) . To do so use the the wording "this article was originally published on the Resource Centre on Media Freedom in Europe" including a direct active link to the original article page.