Publication Date: February 2015
Research and Editorial Team: Anti Corruption Council - Republic of Serbia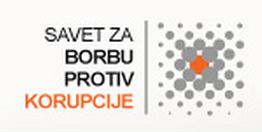 The report by the Anti-Corruption Council of the Serbian Government (Savet za borbu protiv Korupcije ) highlights how the dramatic change in political power balance in Serbia since 2011 has resulted in the turnover of employees also in the majority of media in Serbia, triggering at the same time a redefinition of editorial policies of all leading media in the country, including replacements of editors.
Analysing several hundreds of different media content of print and electronic media and comparing the available official data, the Council identified and singled out five systematic problems that have paralysed the system of public information in Serbia for years:
- Non-transparency of media ownership
- Non-transparency of financing, economic influence through budget, tax reliefs and other indirect forms of public funding
- Problems in media privatisation and uncertain status of public services
- Censorship and self-censorship
- Tabloidisation
Contradictory information
As of 30 June 2014, 1319 media were registered in the Serbian Business Registers Agency (SBRA): 711 print media, 237 radio stations, 208 internet media, 130 TV stations and 20 news service agencies, whereas 9 media and 4 electronic publications fit in other categories. The report notes that some media are not registered, while some media are still registered although they no longer exist. Moreover, publicly available data on media by the Regulatory Body for Electronic Media (RBEM) and data by SBRA are contradictory.
Lack of transparency
Out of a sample of 50 media considered in the report, the Council founds that complete transparency of ownership was found in 23 media, while 27 media have non-transparent ownership, partially transparent or disputable. The Council noticed that the real owner of the majority of media registered abroad is almost impossible to determine.
Financing of media services
The Council has also conducted its own monitoring of advertising in seven dailies and two weeklies. Nielsen Agency estimates that the advertising market in Serbia has dropped from 172 million EUR in 2011-12, to 155 million EUR in 2013. Having that in mind, it is not a surprise that the most common way of informal pressure over editorial policies of Serbian media is reflected in their commercial activities, namely through advertisers.
A short presentation of the report is available, in English, here.
Tags:
Serbia
Media ownership
Media funding
The content of this article can be used according to the terms of Creative Commons: Attribution-NonCommercial 4.0 International (CC BY-NC 4.0) . To do so use the the wording "this article was originally published on the Resource Centre on Media Freedom in Europe" including a direct active link to the original article page.