Publication Date: September 2014
Research and Editorial Team: Dr Gavan Titley, Ellie Keen and László Földi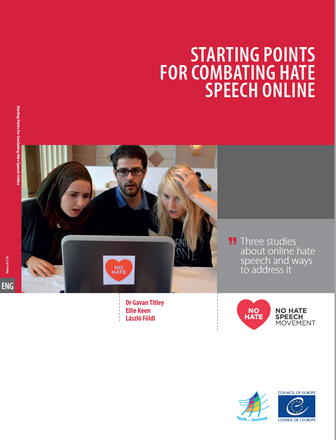 Designed to equip youth organisations and youth leaders with the tools and competences needed to contrast online hate speech and discrimination, the central idea of the report is that online public space should be subject to the same expectations regarding human rights as physical public space, since human rights apply both online and offline.
The first part of the report is an attempt to find a common definition of hate speech. Dealing with hate speech means dealing with the issue of striking a delicate balance between different fundamental rights and principles, in particular freedom of speech, freedom from hatred or fear, and protection of human dignity. Then the study reflects on the realities of hate speech today, with a focus on its online dimensions. By questioning it from the perspective of racist discourses, it considers hate speech as a part of a continuum of racist ideologies that permeate our societies.
The report also presents the results of three "mapping" studies about the realities of hate speech in relation to young people and the existing projects and campaigns on the subject. The related materials are incorporated in this project as resources for activists, youth leaders, researchers, decision-makers, and all those interested in conducting online campaigns against hate speech at a national or European level. The experiences collected in the report are only meant to be a starting point: experts indeed agree that more research is needed, both in terms of legal and policy implications, and with regard to the impact of hate speech on young people.
The report has been produced within the initiative "Young People Combating Hate Speech Online", a Council of Europe youth sector project designed to combat racism and discrimination online.
Tags:
Hate speech
EU Member States
The content of this article can be used according to the terms of Creative Commons: Attribution-NonCommercial 4.0 International (CC BY-NC 4.0) . To do so use the the wording "this article was originally published on the Resource Centre on Media Freedom in Europe" including a direct active link to the original article page.