Publication Date: November 2020
Research and Editorial Team: Foreign Policy Centre: Susan Coughtrie, Poppy Ogier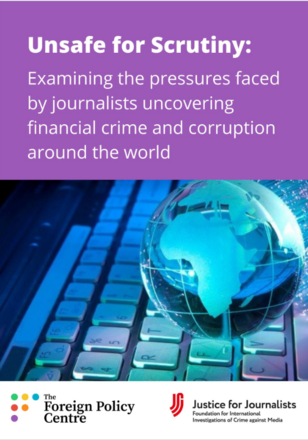 The aim of the survey was to uncover the scope and scale of risks and threats facing investigative journalists across the world who have been targeted for uncovering financial crime and corruption, and was supported by the Organized Crime and Corruption Reporting Project (OCCRP), the International Consortium of Investigative Journalists (ICIJ) and the Global Investigative Journalism Network (GIJN).
The survey findings are complemented with a section specifically on international standards on safety of journalists, which examines the obligation of states to protect all journalists from threats written by Silvia Chocarro, Head of Protection at ARTICLE 19.
Key findings of the report:
– The majority (71%) of respondents reported experiencing threats and/or harassment while working on investigations into financial crime and corruption.
– Of those, almost all had been subject to verbal threats (81%), trolling on social media (79%) and written threats (70%).
– Civil legal cases, especially the use of cease and desist letters, surveillance, both on and offline, interrogation by authorities and smear campaigns, were also experienced by more than 50% of these respondents.
– Incidences of threats or harassment with that have notable psychological impact – such as trolling, verbal and written threats, smear campaigns, and blackmail – were the most highly reported (35% of all incidences reported).
– Legal threats were strongly highlighted by survey respondents as an area of particular concern. 73% of all respondents experiencing threats had received communication(s) threatening legal action as a result of information they had published. The United Kingdom (UK) was by far the most frequent country of origin for legal threats, other than the journalists' home countries. The UK was almost as frequently a source of these legal threats as the European Union (EU) countries and the United States combined. Defamation pursued as a civil case was by far the most frequently given reason behind legal communication(s) to respondents (91%).
Tags:
Investigative journalism
SLAPP
The content of this article can be used according to the terms of Creative Commons: Attribution-NonCommercial 4.0 International (CC BY-NC 4.0) . To do so use the the wording "this article was originally published on the Resource Centre on Media Freedom in Europe" including a direct active link to the original article page.