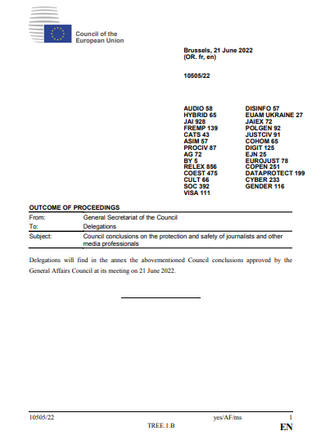 The conclusions recognise the increase in threats against media professionals across Europe, a fact that endangers freedom of expression and freedom of information.
The Council of the European Union notes that intimidating acts are increasingly taking place also online. Looking at the categories of most vulnerable journalists, women journalists, journalists belonging to minorities or socially marginalised groups are disproportionately affected by threats.
Member States identify financial security and protection from SLAPPs as two of the most pressing needs for media professionals in Europe.
Recalling the Recommendation on ensuring the protection, safety and empowerment of journalists adopted in 2021, the conclusions invite the European Commission to:
Encourage the organisation of discussions and exchanges of best practices on the protection and safety of journalists.
Strengthen funding for independent and investigative journalism.
Take into account online safety and freedom of speech in all the initiatives following from the EU's digital strategy.
At the same time, the conclusions invite Member States and the European Commission within their respective areas of competencies to, among other things:
Encourage lifelong learning about the protection of media professionals for all stakeholders concerned.
Support the implementation of initiatives for the protection of female journalists and those belonging to minorities.
Promote mechanisms that support young and new entrants to the labour market of media professionals, as well as freelance journalists and media professionals and those working in local and regional media.
Support media professionals who are striving to cover armed conflicts in an independent and impartial manner.
Tags:
EU Member States
Safety of journalists
Financial support
SLAPP
European policies and legislation
Publication Date: 21/06/2022
Research and Editorial Team: Council of the European Union