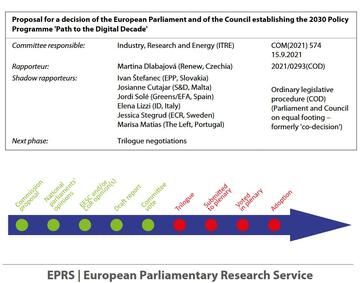 At the moment of publication - in June 2022 - the legislative situation about the topic seems favourable to an agreement among the Commission, the Council and the European Parliament.
The Commission proposes a 'digital compass' with indicators based on four dimensions: improved digital skills, secure and sustainable digital infrastructures, digital transformation of businesses, and digitalisation of the public sector.
The decision will establish the 'Path to the digital decade' policy programme, which aims to set up a governance framework and funding to help achieve the 2030 digital decade targets, including multi-country projects and cooperation mechanisms between the Commission and Member States.
At the European Parliament, the file has been allocated to the Committee on Industry, Research and Energy, which adopted its report on 17 May 2022 and also agreed to enter into negotiations with the Council. The mandate was endorsed by Parliament during the June plenary session.
The trilogue negotiations are the next phase.
Tags:
Digital rights
Digitalisation
Publication Date: 01/06/2022
Research and Editorial Team: Mar Negreiro