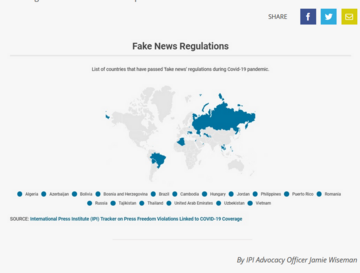 By IPI Advocacy Officer Jamie Wiseman
Few terms have become so engrained in global political discourse in the last half decade than that of so-called "fake news." The widely used yet ill-defined phrase has become a messy shorthand enveloping everything from social media rumours, to online political disinformation, to state-sponsored internet propaganda.
With vastly different motives, in the last few years states around the world have begun passing new laws that allow authorities to regulate what they deem dangerous and inaccurate content online, often under the banner of combating disinformation or so-called "fake news".
As with so many other things, this trend has been intensified by the Covid-19 pandemic. Over the last eight months, IPI's Covid Tracker has documented at least 17 countries worldwide in which some form of legislation or decree has been passed against "online misinformation" or "fake information".
With global levels of press freedom in decline, in tandem with shrinking digital freedoms, this domino effect of "fake news" laws brings with it serious risks.
On the one hand, while many of these laws stem from an understandable desire to combat falsehoods, their vague definition and broad scope means that they can be easily manipulated to censor critical reporting. On the other hand, states that have no genuine interest in protecting quality information use the fight against disinformation as a pretext for laws that limit critical speech.
For illiberal leaders who have long sought new methods to suppress independent media and dissent online, the health crisis and subsequent "infodemic" presented an opportunity to rush through laws without scrutiny and add another tool to their legislative arsenals.
The full article is here .
Tags:
Media Law
Publication Date: 21/10/2020
Research and Editorial Team: Jamie Wiseman