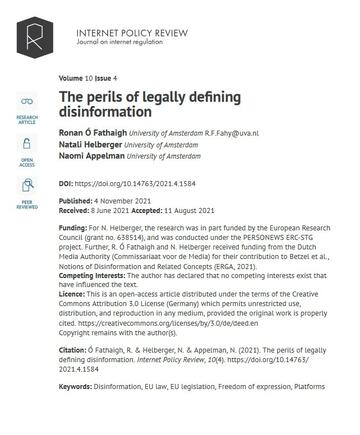 The article discusses the perils of defining disinformation in EU legislation, and including provisions on online platforms being required to remove illegal content, which may end up being applicable to overbroad national laws criminalising false news and false information.
Section 1 begins with a discussion of the most prominent definitions of disinformation that are the basis of EU disinformation policy.
Section 2 then describes the ERGA (European Regulators Group for Audiovisual Media Services) survey, and examines EU member states' legislation that is applicable to disinformation, particularly a plethora of false news and false information laws that are in operation.
Section 3 then assesses the implications for the right to freedom of expression, the free flow of information in Europe's digital single market, and the EU's planned Digital Services Act.
Lithuania is the only EU member state that has an explicit statutory prohibition on disinformation, and specifically defines the term disinformation in its legislation. In this regard, under Article 19 of the Law on the Provision of Information to the Public, it is specifically prohibited to disseminate 'disinformation' and information which is slanderous and offensive to a person or degrades human dignity and honour. Notably, the legislation contains a definition of disinformation, namely 'intentionally disseminated false information' (Art. 2).
Tags:
Fake news and disinformation
Publication Date: 04/11/2021
Research and Editorial Team: Ronan Ó Fathaigh, Natali Helberger, Naomi Appelman