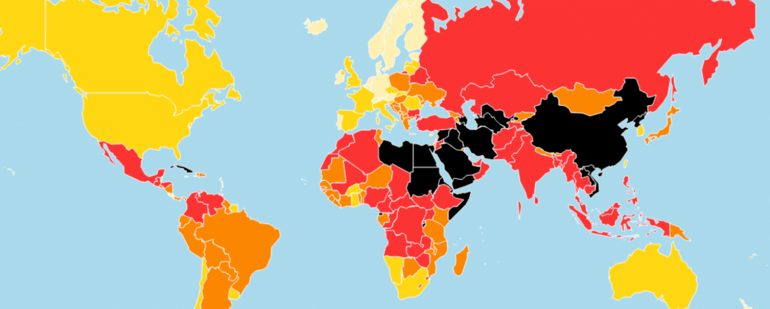 On the World Press Freedom map countries with "good" media landscape are white, while "very bad" are black: in 2018, 12% of the map is colored in black, and "there have never been so many countries" in black since the Index was launched in 2002. Released on April 25th 2018, the Reporter Without Borders' report warns that hostility towards media from political leaders is no longer limited to authoritarian countries. Indeed, an increasing number of democratically-elected leaders see journalism as an adversary to which they openly display their aversion. For instance, in the United States (down 2 at 45th) President Donald Trump referred to reporters "enemies of the people".
Verbal violence from politicians is on the rise also in Europe, where President Miloš Zeman in Czech Republic (down 11 at 34th) turned up at a press conference with a fake Kalashnikov inscribed with the word "for journalists" or former Prime Minister Robert Fico in Slovakia (down 10 at 27th) called journalists "filthy anti-Slovak prostitutes". Whereas "press freedom in Russia and Turkey has sunk to levels that are without precedent in more than three decades", the decline has also concerned European Nordic countries.
In Europe the regional indicator has worsened most, although it is still the safest environment for journalists in the world. In fact, four of this year's five biggest falls are those of European countries: Malta (down 18 at 65th) where investigative blogger Daphne Caruana Galizia was killed in October 2017, Czech Republic (down 11 at 34th), Serbia (down 10 at 76th) and Slovakia (down 10 at 27th) where investigative journalist Jan Kuciak was murdered in March 2018. Besides being insulted by politicians or threatened by criminal groups, European journalists face legislative changes that are likely to interfere with their job, such as public broadcasting reform in Switzerland or bills to combat fake news in France or Germany.
Tags:
Media freedom
Safety of journalists
Political pressure