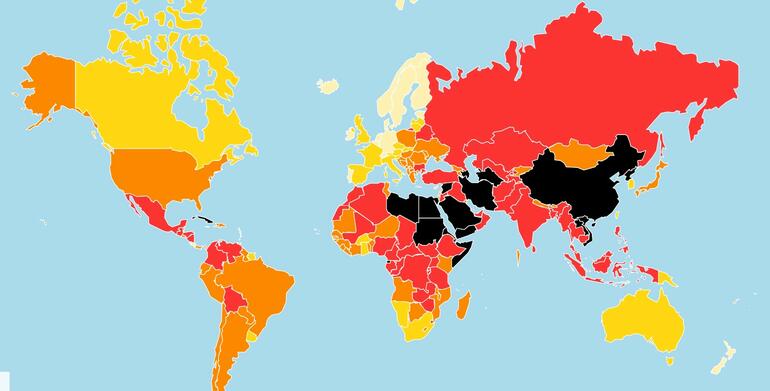 Threats, insults, and attacks are now standard "occupational hazards" for journalists in many countries.
According to the Index, an intense climate of fear has been triggered, and the hostility towards journalists expressed by political leaders in many countries has incited increasingly serious and frequent acts of violence that have fuelled an unprecedented level of fear and danger for journalists.
Norway is ranked first in the 2019 Index for the third year running, while Finland (up two places) has taken second place from the Netherlands (down one at 4th), where two reporters who cover organised crime have had to live under permanent police protection. An increase in cyber-harassment caused Sweden (third) to lose one place. In Africa, the rankings of Ethiopia (up 40 at 110th) and Gambia (up 30 at 92nd) have significantly improved since last year's Index.
At the bottom of the Index, both Vietnam (176th) and China (177th) have fallen one place, Eritrea (up 1 at 178th) is third from last, despite making peace with its neighbour Ethiopia, and Turkmenistan (down two at 180th) is now last, replacing North Korea (up one at 179th).
As a result of an increasingly hostile climate that goes beyond Donald Trump's comments, the United States (48th) has fallen three places in this year's Index and the media climate is now classified as "problematic" (orange).
In addition to lawsuits and prosecutions, investigative reporters are liable to be the targets of every other kind of harassment whenever they expose corrupt practices. A reporter's house was set on fire in Serbia (down 14 at 90th), while journalists were murdered in Malta, Slovakia (down 8 at 35th), Mexico (down 3 at 144th), and Ghana (down 4 at 27th).
The level of violence used to persecute journalists who aggravate authorities no longer seems to know any limits. Saudi columnist Jamal Khashoggi's gruesome murder in the Saudi consulate in Istanbul last October sent a chilling message to journalists well beyond the borders of Saudi Arabia (down 3 at 172nd).
Of all the world's regions, the Americas (North and South) have suffered the greatest deterioration (3.6 percent) in its regional score measuring the level of press freedom constraints and violations.
The European Union and the Balkans registered the second biggest deterioration (1.7 percent) in regional score measuring the level of constraints and violations. Hungary went down 14 at 87th.
Tags:
Freedom of expression
Media freedom
Media ownership
Media pluralism