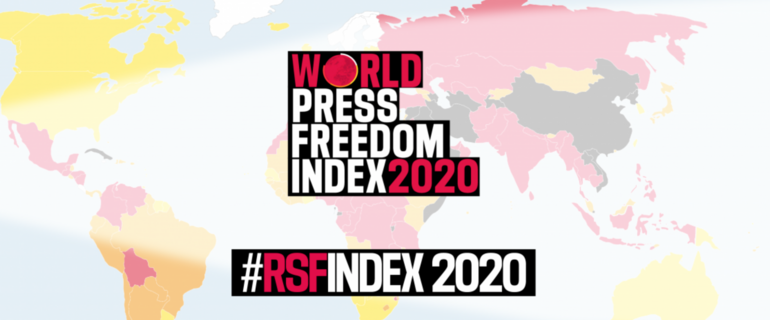 Published annually by Reporters Without Borders since 2002, the World Press Freedom Index measures the level of media freedom in 180 countries and territories.
The 2020 edition of the Index shows that the next ten years will be pivotal for press freedom because of converging crises affecting the future of journalism, namely:
a geopolitical crisis, caused by leaders of dictatorial, authoritarian or populist regimes that are suppressing free information, pluralism, and independent journalism;
a technological crisis, as the absence of appropriate regulation has created information chaos and has led to the adoption of dangerous media laws;
a democratic crisis and a growing hostility towards journalists;
a crisis of trust, as media are considered to be contaminated with untrustworthy information;
an economic crisis, that inevitably has also an impact also on the editorial freedom and independence of many media outlets.
This scenario is now combined also with a global public health crisis that undoubtedly poses new and serious challenges. In fact, as declared by RSF secretary-general Christophe Deloire, "The public health crisis provides authoritarian governments with an opportunity to implement the notorious "shock doctrine" – to take advantage of the fact that politics are on hold, the public is stunned and protests are out of the question, in order to impose measures that would be impossible in normal times".
Main findings
With few variations from 2019, the countries at the top of the Index are Norway, Finland, Denmark, Sweden, and the Netherlands, while North Korea is now at the bottom. Malaysia and the Maldives registered the biggest rises, while Haiti the biggest decline.
Regional analysis
Europe remains the most favourable continent for media freedom, despite oppressive policies in certain European Union and Balkan countries. It is followed by the Americas (even if the United States and Brazil are becoming models of hostility towards the media) and Africa, that has also suffered major setbacks (like prolonged arbitrary detention and online attacks). The greatest rise in media freedom violations has been recorded in the Asia-Pacific region, while the Eastern Europe/Central Asia region is still in second-to-last place in the regional ranking and the Middle East and North Africa remains the world's most dangerous region for journalists.
Tags:
Media freedom
Media ownership
Media pluralism
Freedom of expression