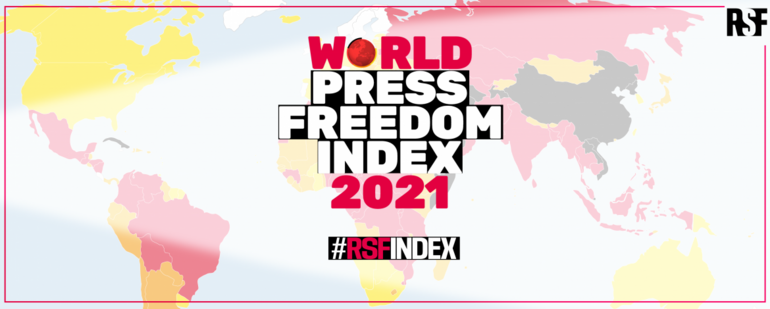 The 2021 World Press Freedom Index compiled by Reporters Without Borders (RSF) shows that journalism, the main vaccine against disinformation, is completely or partly blocked in 73% of the 180 countries ranked by the organisation.
RSF's global indicator – its measure of the level of media freedom worldwide – is only 0.3% lower in the 2021 Index than it was in 2020. However, the past year's relative stability should not divert attention from the fact that it has deteriorated by 12% since this indicator was created in 2013.
The World Press Freedom map has not had so few countries coloured white – indicating a country situation that is at least good if not optimal – since 2013, when the current evaluation method was adopted. This year, only 12 of the Index's 180 countries (7%) can claim to offer a favourable environment for journalism, as opposed to 13 countries (8%) last year. The country to have been stripped of its "good" classification is Germany (down 2 at 13th). Dozens of its journalists were attacked by supporters of extremist and conspiracy theory believers during protests against pandemic restrictions.
Europe and the Americas (North, Central and South ) continue to be the most favourable continents for press freedom, even though the Americas registered the biggest deterioration in its regional violations score (up 2.5%). Europe registered a sizeable deterioration in its "Abuses" indicator, with acts of violence more than doubling in the European Union and Balkans, compared with a 17% deterioration worldwide. Attacks against journalists and arbitrary arrests increased in Germany (13th), France (34th), Italy (41st), Poland (down 2 at 64th), Greece (down 5 at 70th), Serbia (93rd) and Bulgaria (down 1 at 112th).