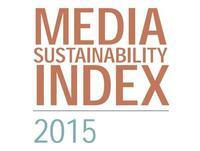 Every year, IREX issues the Media Sustainability Index (MSI), with funding from USAID, providing in-depth analyses of the conditions for independent media in 80 countries across the world. IREX Media Sustainability Index (MSI) considers developments over time, with a specific focus on economic sustainability; quality of journalism and management practices.
Five different objectives are assessed in this report:
- freedom of speech;
- professional journalism;
- plurality of news sources;
- business management;
- supporting institutions;
Comparative data are provided for each indicator in a time span of several years. The overall performance of each country is confronted with the developments registered in the other countries of the region.
MSI Europe & Eurasia Chapters scrutinize the following countries:
Albania | Armenia | Azerbaijan | Belarus | Bosnia and Herzegovina | Bulgaria | Croatia | Georgia | Kazakhstan |Kosovo | Kyrgyzstan | Macedonia | Moldova | Montenegro | Romania | Russia | Serbia | Tajikistan |Turkmenistan | Ukraine | Uzbekistan
Tags:
Professional journalism
Media pluralism
Legal protection
Caption (Image):
IREX Media Sustainability Index (MSI)