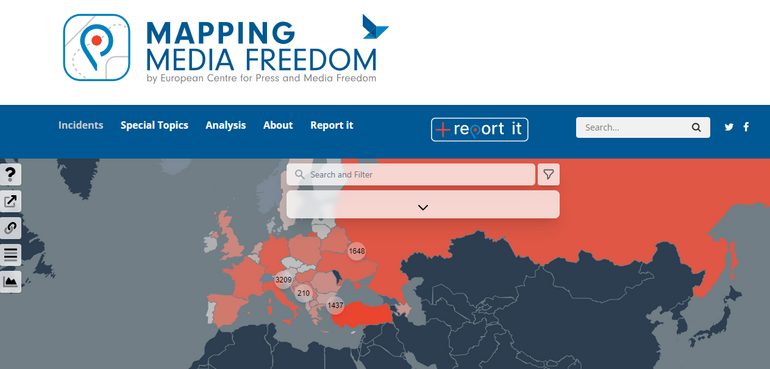 Mapping Media Freedom identifies threats, violations and limitations faced by media workers throughout European Union member states, candidates for entry and neighbouring countries.
This project was created by Index on Censorship as part of the European Centre for Press and Media Freedom (ECPMF).
Anyone can submit reports about threats, violations or limitations to media freedom and pluralism through the Mapping Media Freedom website and anyone can search the reports.
This project is run by the Media Freedom Rapid Response (MFRR), a rapid response mechanism against violations of press and media freedom in EU Member States and Candidate Countries. It provides legal support, shelter, public advocacy and information to protect journalists and media workers. The alliance is led by the European Centre for Press and Media Freedom (ECPMF) in conjunction with ARTICLE 19, the European Federation of Journalists (EFJ), Free Press Unlimited (FPU), the Institute for Applied Informatics at the University of Leipzig (InfAI), International Press Institute (IPI) and CCI/Osservatorio Balcani e Caucaso Transeuropa (OBCT). The project commenced in 2020, funded by the European Commission.
Tags:
Research
Advocacy