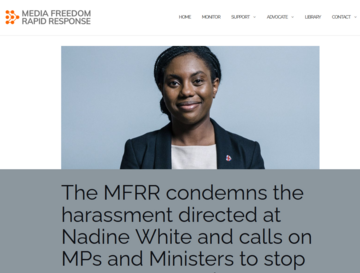 On Friday 29th January, Huffington Post UK journalist, Nadine White was subjected to online harassment severe enough to warrant making her Twitter account private after UK Treasury & Equalities Minister Kemi Badenoch MP tweeted a thread discrediting the journalist and incorrectly accusing her of making false claims. This followed two emails sent by Ms White to the Minister's official email address requesting a statement as to why she did not contribute to a video with black cross-party MPs calling for greater uptake of the vaccine by the black community.
The MFRR calls on the UK Government to respond to all journalistic requests in the good faith this process deserves to ensure the public is informed. We also call on all elected officials and representatives of the government to take meaningful action to ensure their actions do not ennoble or encourage online harassment targeting journalists and media workers.
The full statement, which was sent to the UK governement as a letter that OBCT co-signed, can be found here .
Tags:
Online news Online media
United Kingdom