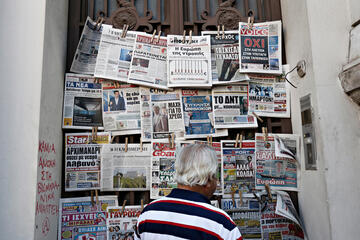 At the end of March, journalist Stavroula Poulimeni and the independent media outlet Alterthess were ordered in first instance to pay compensation of EUR 3,000 to Greek gold mine (Hellas Gold) executive Efstathios Lialos.
According to the ruling, Poulimeni violated the executive's privacy by writing his name and position in a 2020 article about Lialos's conviction for environmental pollution in Halkidiki, northern Greece.
The sum is considerably less than the EUR 100,000 requested by Lialos, but at stake, according to Poulimeni, is a question of journalistic freedom. In a statement, Alterthess referred to the verdict as a 'blow to press freedom', and expressed the intention to appeal against the court's decision. 'Personal #DataProtection doesn't justify suppressing info vital to public interest', Reporters Without Borders stated in a tweet.
In the interview that follows, Poulimeni spoke to OBC Transeuropa about her experience as an independent journalist in crisis-ravaged Greece and her reporting on environment degradation in Halkidiki, and explained why the verdict against her threatens the right of the public to be informed.
OBC Transeuropa: What is the professional path that led you to co-found the independent news outlet Alterthess in the middle of the economic crisis?
I've been a journalist since 2008. In 2011, with a group of people – not only journalists – we decided to establish an investigative, independent and collaborative media project in Thessaloniki. We called it Alterthess, because it told stories from an 'alternative' Thessaloniki. We cover grassroots initiatives, social issues, human rights, migration, the rights of the LGBTQIA+ community, and we are outspoken against racism.
When we started, the economic crisis was in full swing, Greece had entered the first 'Memorandum' and the European 'Troika' had been established in the country. A lot of protests and demonstrations were taking place against austerity measures, but the mainstream media lacked independent analysis. We decided to try and fill this gap, and invested all our energies into Alterthess. The outlet is well connected with local movements and groups, but it's hard to survive financially. We are trying to gather support from our readers, as we don't have state funding to rely on.
How did you grow interested in environmental issues, and when did you start reporting on the mining project in Skouries?
I have been covering environmental topics for twelve years now. There are many stories to be told, especially since the wave of privatisations invested public resources such as water, forests, etc.
Alterthess reported on the mining project – and the struggle against it – from the very start. I have been to Skouries many times. There are no trees now, and mining infrastructure has been built. But for many years, protests have been taking place against the project, facing state suppression, police attacks and legal battles. We covered the story from different angles – economical, social, psychological, and, of course, environmental – and we are deeply connected to the local protest movement, even though in the last years it has grown progressively weaker.
You and Alterthess were the target of a vexatious lawsuit connected to your work in Skouries. How did it happen?
On 27 October 2020, two high-ranking executives of Hellas Gold [The company, owned by Canadian Eldorado Gold, which is working on mining development in Skouries], were convicted in the first instance on water pollution charges. On the same day, I wrote an article about it in Alterthess, and nothing happened.
One year later, in September 2021, the conviction was confirmed, and I wrote about it again. The following month, after the second conviction, a lawsuit initiated by Efstathios Lialos, one of the two executives, was notified to us. The lawsuit referred to the article I had written in 2020, after the first conviction, and was based on an alleged violation of GDPR, the EU's General Data Protection Regulation: in my article, I had reported the convicted executives' names.
What was your first reaction when you received the lawsuit?
In a way, I was surprised. Firstly, my article dated back to the previous year; secondly, it did not include any false information, nor did it contain any comment. It merely reported what had happened in court; thirdly, the lawsuit did not require us to take down the article, but asked me and Alterthess to pay EUR 100,000 as compensation for illegal processing of personal data related to a criminal conviction.
On the other hand, what happened was not completely unexpected. While the lawsuit against us came from an individual, we knew that companies use legal threats to silence critical reporting. In Greece, private actors usually resort to advertising as a tool to obtain favourable coverage or not be subjected to journalistic scrutiny. When this is not enough, they resort to legal threats.
What were the consequences of the lawsuit on your job and personal life?
Facing a SLAPP is extremely draining. You have to deal with legal matters on a daily basis, and this has both a psychological and an economic impact. For a long time, you cannot be completely focused on your work. We received the lawsuit in October 2021, and the discussion in court only took place in May 2022. For months, we have been waiting and preparing for the trial. During the time we were waiting for the verdict, we felt a lot of anxiety.
We tried not to be discouraged, and started to publish several articles on the subject of SLAPPs and intimidation of journalists. This is more than just a personal matter: SLAPPs have consequences on public interest reporting in general, because in the future, journalists might be afraid of writing about certain issues.
What has been the reaction of fellow journalists and institutions to the lawsuit against you? Have you received support and solidarity from society at large?
When we received the lawsuit, we didn't know what a SLAPP was, and neither did Greek journalists' unions. Only later, when we started spreading the word about the issue, we found out that other journalists had been targets of such lawsuits too. International organisations such as the International Press Institute (IPI), Amnesty International and the European Centre for Press & Media Freedom (ECPMF) had more experience; they issued announcements and supported us from the very first day.
As for institutions, our case was raised in the European Parliament by SYRIZA MP Kostas Arvanitis, and there were statements and parliamentary questions in the Greek Parliament as well. However, it was the solidarity of common people and grassroots movements in Skouries and elsewhere that showed us that people recognized the importance of our public interest reporting.
The Greek mainstream media, on the contrary, did not support us much, and this is a problem. As said, I think there is a problem of financial interests exerting control on the media narrative.
The first instance verdict partly upheld Lialos's complaint that his privacy had been unfairly violated. What are the implications of this ruling?
Our case is quite unusual because it has to do with data protection. If confirmed, a ruling against us could trigger a new wave of prosecutions weaponizing GDPR regulations to inhibit public interest journalism and its ability to call things – and people – by their names. The true stake is not the money we are being asked to pay, but the right of the public to be informed.
You hinted at systemic problems in the Greek media landscape. How has the situation evolved over the last few years, and how do SLAPPs fit into the wider picture of declining press freedom in Greece?
The problem of press freedom in Greece has deep roots. It is a complex issue, which also has to do with the economic situation: many media outlets were shut down during the crisis, fellow journalists were laid off, and still today most media workers struggle to make ends meet.
In many respects, things have gotten worse in recent years, not only because of SLAPPs. It is a widespread perception among journalists that private and government actors can more often and easily attack press freedom compared to a few years ago.
The wiretapping scandal has uncovered a worrying surveillance network, but also part of the picture are the frequent police attacks on journalists and photojournalists at demonstrations, and the character assassination on social media, especially against colleagues who cover migration issues and are portrayed as "foreign agents".
The good news, and hopefully also a turning point, is that the debate on press freedom in Greece has finally opened.
Tags:
Greece
SLAPP
Media freedom
Freedom of expression
This content is part of the Media Freedom Rapid Response (MFRR), a Europe-wide mechanism which tracks, monitors and responds to violations of press and media freedom in EU Member States and Candidate Countries. The project is co-funded by the European Commission.