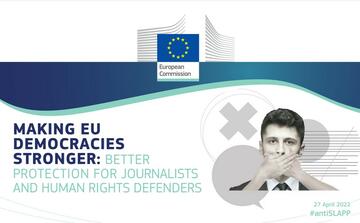 The European Commission is taking action to improve protection of journalists and human rights defenders from abusive court proceedings. Strategic lawsuits against public participation, commonly known as 'SLAPPs', are a particular form of harassment used primarily against journalists and human rights defenders to prevent or penalise speaking up on issues of public interest.
The proposed Directive enables judges to swiftly dismiss manifestly unfounded lawsuits against journalists and human rights defenders. It also establishes several procedural safeguards and remedies, such as compensation for damages, and dissuasive penalties for launching abusive lawsuits.
The Commission is also adopting a complementary Recommendation to encourage Member States to align their rules with the proposed EU law also for domestic cases and in all proceedings, not only civil matters. The Recommendation also calls on Member States to take a range of other measures, such as training and awareness raising, to fight against SLAPPs.
Here more info .
Tags:
SLAPP