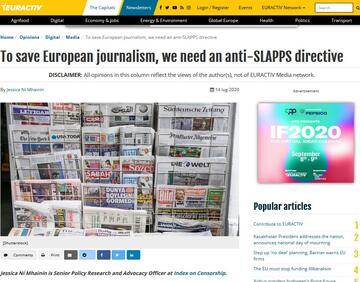 Related contents
SLAPPs: Strategic Lawsuits Against Public Participation
Published on 14 July by Euractiv, the analysis written by Jessica Ní Mhainín can be found here.
After an introduction mentioning Maltese journalist Daphne Caruana Galizia, brutally killed in October 2017, who had 47 lawsuits pending against her, the author gives a definition of SLAPP andreminds that EU Commissioner Jourová "has already indicated that she is in favour of taking action".
In June she replied to MEPs, who had written to her to call for an anti-SLAPP directive, saying that she would look at "all possible options to address this matter".
According to Jessica Ní Mhainín, there is still the need to explain the effect of SLAPPs to other stakeholders, in order to show "the impact they are having on our democracies. This understanding is essential to enable effective and legally binding instruments to be adopted".
Index is currently researching on SLAPP, they also published a first report with an overview of media laws and defamation laws in most European countries.
In her op-ed, Jessica Ní Mhainín also underlines that a policy paper published in June by 119 NGOs, including Index on Censorship and OBCT, called for the EU to put an end to SLAPPs by adopting a series of complementary measures, including an anti-SLAPPs directive.
Tags:
SLAPP
Defamation and Libel
European Policy
Freedom of expression