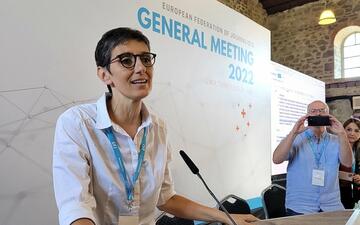 Photo FNSI
Busy, hardworking, cheerful, Maja Sever (born in 1971) is one of the best-known faces of Croatian journalism and, since mid-June, she has also been the new president of the European Federation of Journalists (EFJ). With almost three decades of experience, Sever has built her career in public television HRT, where she hosted the programme "Hrvatska uživo" for 13 years (interrupted in 2017 for political reasons) and where she works today on the talk show «Nedjeljom u 2» with Aleksandar Stankovic. Sever is known above all for her civic commitment. Be it freedom of expression, LBGTQ rights, protection of refugees, or even helping the inhabitants of the most depressed areas of Croatia, Maja Sever is always in the front row and it is not uncommon to find her in the demonstrations that regularly animate the Croatian capital. Since 2019, she has led the Union of Croatian Journalists (SNH) and in recent years she has received numerous awards: "Journalist of the year " in 2018, "Pride of Croatia " in 2019 for her humanitarian commitment, "Courageous woman " in 2021 for her contribution to gender equality and social justice. Last but not least, Maja Sever has a habit of saying good morning to the country, tweeting every day between 6 and 7, but sometimes even a little earlier, "dobro jutro". In short, she is a force of nature. We meet her on a Sunday in June, at 8:30 in the morning.
Maja, even before asking you about your new post at the EFJ, a question I can't help but ask you: where do you find the time to do all of this?
(Laughs) Look, to answer you a little from a personal point of view: my daughters are now grown up (Vlasta, Josipa, and Zora are between 15 and 25 years old, ed.), they are wonderful young women and I have a little more time off from family commitments. I have never lacked energy and strength and I have this idealistic approach to life, I think things can be changed. Then, Croatian law provides that anyone with a trade union commitment can work part-time. I have never used it so far, but I have an excellent collaboration with Stankovic, we have talked about it for a long time, also with my editor-in-chief, and I think that now I will take advantage of this tool to fulfill my new role in the EFJ and to continue with trade union activity. The function of president of the EFJ, by the way, is on a voluntary basis, there is a team behind that does a great job.
Talking about your new post, you are the first woman and first representative from the Balkans to lead the European Federation of Journalists. How do you feel?
I am very happy, honoured. The EFJ is a large, strong organisation with 320,000 colleagues. They are active, visible, they fight for the rights of journalists. And the fact that I am now holding the role of president is a strong signal for this - let's say - "other Europe", for the Balkans. I understand the problems of this region, I am here, three hours away from everyone, and in this way the EFJ can now be more present in the area. We will be able to involve colleagues from the Balkans on an equal footing, the problems of journalism here are more serious than elsewhere in Europe. It's a small step, but it shows that yes, we are all part of the same European family. Another very important story is the fact that I am the first woman to lead the EFJ. Gender equality is a battle I really care about, even within the trade union in Croatia. I'm not just talking about salaries, but also about the representation of women in the media and the role of journalists in the media.
Let's talk about the situation of journalism in Croatia. Recently, I spoke to lawyer Vanja Juric, who defends many colleagues in court against SLAPP and other defamation cases. She told me that in her opinion, the ultimate problem - as far as freedom of expression in this country is concerned - is that society, and especially those in a position of power, have not yet understood the importance of journalism for democracy. What do you think about it?
Yes, the awareness of what journalism is really for is missing. Especially in these new digital times, in which information comes continuously from different sources. Not everyone has the tools to understand, to verify information. But that awareness starts from the top. I think of the lexicon used in Europe, when I listen to the presentation of a directive, a regulation or a press conference, whether it is the guidelines for freelancers, the Digital Act, copyright... every time the importance is emphasised of pluralism of the media, independence of journalism, journalism as a public service. This must be understood by our politicians, who instead in their daily behaviour have adopted the populist approach of blaming journalists for every inconvenient question, attacking them. Here, if someone who is at the top does this, it is clear that ordinary citizens feel legitimised, online or offline, to do the same. This is the responsibility of the political class. We don't need their help, they don't have to "save" journalists, they just have to respect the rules of the game. As we said in one of our campaigns: "Just answer the questions". Our job is to ask the questions that we think are of interest to the audience or a part of the audience. Theirs is to answer.
Has there been any change in Croatia in recent years with regards to this attitude of politicians towards journalists?
I do not see it. There is this legacy of the Trump era whereby instead of answering questions people attack journalists, claim fake news. Yet, several studies have shown that during the pandemic, people went back to the media as a source of verified information. This is the role of journalism as a public service. The change in Croatia, I don't see it. But it is up to us to remember the direction in which we must go. There is room for controversy, there is room for criticism of journalists, but boundaries must be set: insults and threats must be eliminated. Just as we cannot accept a society in which it is normal for there to be mass lawsuits against journalists. A society in which those who have a position of power in a party or in parliament can initiate 50 cases against journalists, knowing full well that they will lose them, indeed not even counting on a victory in court, but only wanting to pressure, silence.
You cite gag complaints, or SLAPP. Croatia presents an apparently contradictory situation in this sense. On the one hand, there are nearly a thousand libel suits currently pending against media and journalists - often filed by politicians in power. On the other hand, the government seems willing to really want to change the situation. How do you explain it?
First of all, I think the pressure we are putting on the authorities is very strong. Vanja Juric is, for example, a member of the European group for SLAPP, then there are the annual reports of the HND which take into account the number of cases and the situation of journalism in Croatia there is a lot of debate, through the CASE network, in the European parliament... By using the tools of the rule of law, we are able to bring attention to what is happening here. This, we have found, is a very effective method of achieving our goals. The Ministry of Culture, for example, has let us know that it wants to actively work to solve the problems of journalism in Croatia. I must admit that the seminars on SLAPP organised in collaboration with the ministry and in which the Union of Croatian Journalists (HND) and the Union of Journalists (SNH) are involved are a step forward, because they open the debate on these issues. Another very important fact is that judges are also starting to get involved in those seminars. Informing and educating judges on SLAPP is a key element, as also indicated by the European Commission's directive on this matter. Some judges, let's be aware, don't even know what a SLAPP is. Well, on the other hand, all of this is nice to see, but for the moment it has no concrete effect in the daily life of journalists. This can be seen in the figures of the HND which count the lawsuits pending in the country: these have not decreased.
What should be done, in addition to initiating a dialogue between the various stakeholders?
First, we need to create a database on SLAPP, distinguishing between these and other lawsuits for defamation. Collecting data is the first step in any struggle. We then have a request to decriminalise defamation, removing it from the criminal code. This would be a real sign of political will to solve the problem of gag complaints and would relax the pressure on the media. After that, we see that the system of media councils - made up of journalists, editors, and experts in the field - can help solve some problems of the profession, acting as an independent regulator, without going to the court. These media councils work well in those countries where institutions are strong and self-regulation works. In Croatia, for the moment, there is not even an independent body that is not controlled by the majority in parliament. It is a catastrophe.
One last question about the economic conditions in which Croatian journalists find themselves. Has the situation improved since the 2008 crisis?
Unfortunately no, it hasn't. And this is a fundamental aspect. Financial security is the basis of a journalist's work: only those who can pay their mortgage are truly free. Otherwise, if your personal financial situation is delicate, it is difficult to be brave. I work as a trade unionist and unfortunately I see that since 2008 the problem of the economic precarity of journalists in Croatia has not yet been resolved. At Croatian public television HRT there are many people who have been working for twenty years for less than 5,000 kuna per month (about 670 Euros, ed.). How can you stand up to the powerful or the local authorities in such a condition? The economic question must be resolved quickly.
------------------------------------------------------------------
The Croatian government is one of the first in Europe to have responded promptly to calls from the European Commission to counter gag complaints, even before the publication of the Recommendation on the safety of journalists (September 2021) and the anti-SLAPP package (April 2022): in July 2021, in response to the European Plan for Democracy (December 2020), the Croatian authorities already convened a working group of journalists, publishers, trade unions, bar associations, and academics, together with the Minister of Culture and the Minister of Justice. A conference with experts and two training sessions for the judges were organised. A third seminar will be held in July.
Tags:
SLAPP
Croatia
This content is part of the Media Freedom Rapid Response (MFRR), a Europe-wide mechanism which tracks, monitors and responds to violations of press and media freedom in EU Member States and Candidate Countries. The project is co-funded by the European Commission.