Publication Date: December 2007
Research and Editorial Team: Alina Mungiu-Pippidi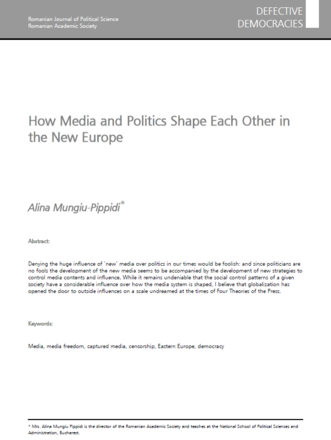 In this illuminating study, Pippidi illustrates the transformation from State-controlled to privatised and market-oriented media systems, highlighting the emergence of new forms of purchasing media in the new, globalised media environment.
Evidencing two phases common to all countries in the aftermath of the 1989 revolutions - liberalisation and deregulation - the author highlights a "divergence of paths" between states, that became "either more democratic or, indeed, more autocratic".
In fact, Pippidi explains, while in some countries "politics became more and more competitive, and the media more and more pluralistic, although it has remained a complex mixture of professional with partizan media", in others "control of the media returned, as the media was captured again, either directly by governments or by vested interests networked with politics".
During the post-socialist transition processes, new forms of political collusion with media emerged, resulting in an "intermediate state" in which "captured media outlets exist to trade influence and manipulate information rather than to inform the public".
Subsequently, the author discusses a series of features related to the media capture phenomenon, including "concentrated, non transparent ownership of media outlets, with important political actors controlling the media, a strong linkage between media and political elites and important infiltration of the media by secret services". These features, states Pippidi, often take the form of "state subsidies, bailouts in case of debts, preferential distribution of state advertising and tax breaks for media owners" that "are traded in exchange for favorable treatment".
Finally, Pippidi discusses three government strategies to control the media - "direct control through repression", "indirect control through capture", and "accomodation" - and the role of the media both in "revolutionary times" (citing cases from Romania, Serbia, Ukraine, and Georgia) and during and after EU accession (Poland, Czech Republic, and Hungary), where "influence on policymaking is, of course, much harder to prove than influence on revolutions".
Tags:
Freedom of expression
Media freedom
Media pluralism
Media ownership
Media capture
The content of this article can be used according to the terms of Creative Commons: Attribution-NonCommercial 4.0 International (CC BY-NC 4.0) . To do so use the the wording "this article was originally published on the Resource Centre on Media Freedom in Europe" including a direct active link to the original article page.