Publication Date: June 2018
Research and Editorial Team: Katjana Gattermann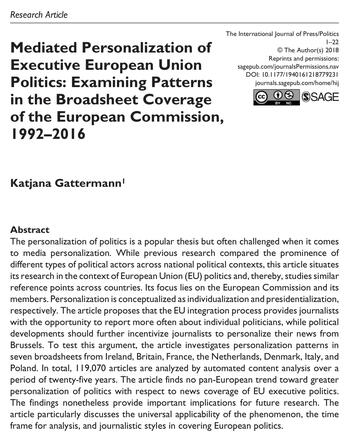 The article examined a sample of 119,070 newspaper articles from 1992 to 2016, from seven newspapers in seven European countries with different media systems: The Irish Times (Ireland), The Guardian (United Kingdom), Le Monde (France), De Volkskrant (Netherlands), Politiken (Denmark), La Stampa (Italy), and Gazeta Wyborcza (Poland).
The yearly number of articles covering the European Commission per newspaper shows considerable overtime fluctuation. In particular, some newspapers featured higher coverage in relation to national reason:
"The coverage by La Stampa was high under Italian Commission President Prodi between 1999 and 2004. Moreover, the coverage by the Irish Times peaked in 2010, when Ireland had to agree to a bailout by the EU and the IMF given its sovereign debt crisis. The Guardian had the most comprehensive coverage in 2016, when the British voted to leave the EU".
The content of the articles was analysed with automatic systems. The main conclusion was that there is no European trend toward greater mediated individualisation of the members of the European Commission. In particular, there is no higher personalisation with every new phase of formal EU integration or when a new Commission takes office. Rising unemployment rates in the country where the newspaper is distributed also have no effects.
The global financial crisis of 2008 and the crisis of the Eurozone brought higher presidentialisation (higher visibility of the Commission President) in the Eurozone countries, but not in the other countries. There is some increase in presidentialisation during and around the EU summits. Of the six presidents of the European Commission considered (Delors, Santer, Marin, Prodi, Barroso, and Juncker), only Jacques Delors had higher presidentialisation than the others.
National journalist cultures seem to matter as "individualisation scores are highest in the French and Italian newspapers, similarly high for the Irish Times and the Guardian, comparatively lower in both Danish and Dutch broadsheets, and even lower in Gazeta Wyborcza".
Tags:
Big data
Italy
Ireland
United Kingdom
France
Netherlands
Denmark
Poland
The content of this article can be used according to the terms of Creative Commons: Attribution-NonCommercial 4.0 International (CC BY-NC 4.0) . To do so use the the wording "this article was originally published on the Resource Centre on Media Freedom in Europe" including a direct active link to the original article page.