Publication Date: January 1970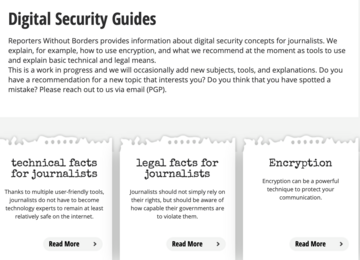 The Helpdesk for Digital Security for Journalists developed by Reporters Without Borders features several resources and training on digital security for journalists.
In order to provide a clear overview of the numerous safeguards to be adopted by journalists on their job, RSF has drafted nine guides on issues related to digital security, with recommendations and tips to enhance it.
Technical facts for journalists: a list of five facts journalists should know about digital security.
Legal facts for journalists: journalists should not simply rely on their rights, but should be aware of how capable their governments are to violate them.
Encryption: it explains what types of encryption exist, what questions journalists should ask themselves about encrypted communication tools, and what characteristics popular encryption tools have.
Anonymity: basic information on how online anonymity is technically provided and what key questions journalists and sources need to answer before using these products. Moreover, it provides information about VPNs and the Tor network.
Account security: journalists rely on many different services for their job (social networks, email services, clouds, or other tools), and these services may handle a lot of information that journalists by definition have to protect. Credentials are then the most valuable thing journalists have to protect.
Commercial surveillance: there are a lot of ways in which commercial data can find their way to entities that want to compromise journalists security. Due to the secrecy of the interchanges, journalists would probably get to know it for sure.
Clouds: pros and cons for clouds and basic rules for journalists to work with clouds.
Online Harassment: Reporters Without Borders gives a short overview of the most important forms of online harassment and lists basic countermeasures. They also link to various resources from partner organisations that might have additional information to dig deeper into that topic.
Disinformation and False News: practical tips for journalists both as to how to detect deliberate false news and how to react when false information is spread about journalists.
Tags:
Digital safety
Journalism education
The content of this article can be used according to the terms of Creative Commons: Attribution-NonCommercial 4.0 International (CC BY-NC 4.0) . To do so use the the wording "this article was originally published on the Resource Centre on Media Freedom in Europe" including a direct active link to the original article page.